Indian Friendship Center: Sault Ste Marie, ON
by nathalie neuhaus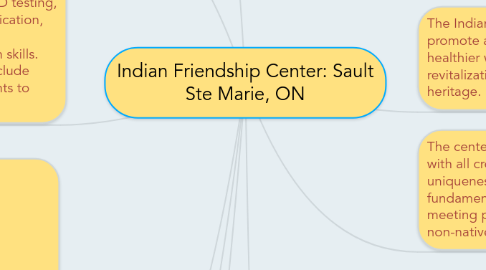 1. This agency addresses equity and inclusion of Aboriginal students as the program is set up to help students become active members of the community, helping them obtain an Ontario Secondary School Diploma so that they continue their education to the post-secondary level in hopes of obtaining a career in the future. The Urban Aboriginal Alternative High School was developed as a partnership with the Algoma District School Board for urban aboriginal, Inuit, and Métis.
2. The IFC also has an Urban Aboriginal Family Support Program strongly promotes holistic healing for parents and children in conjunction with traditional teachings of the Anishinaabe people. This program provides services to parents with children ages 0 months to 6 years.
3. Services provided include: • Spousal Abuse Support • Substance Abuse Support • Cultural Teachings • Family Healing • Parenting Classes • HIV/AIDS Prevention & Support • FASD Prevention & Support • Child Development Education • Milk Program • Clothing Depot • Collective Kitchen • Nutrition Education • Community Resource Referrals • Parent & Child Advocacy • Appointment Assistance • Short Term Counseling A free Student Nutrition Program is available daily which includes breakfast and lunch.
4. The center employees a Literacy tutor who facilitates the Aboriginal Adult Literacy and Basic skills program. This includes assistance with academic upgrading, preparation for GED testing, strategies to improve communication, numeracy, and self-management/self-direction skills. All aspects of programming include cultural components for students to reflect on their heritage.
5. Services are provided by appointment or drop in, the Indian Friendship center always has their doors open for clients!
6. Reference: www.ssmifc.com
7. Mission statement- The Indian Friendship center creates an educational environment that is sensitive to the needs of the native student, it focuses on all aspects of life; spiritual, mental, emotional and social.
8. The Indian Friendship center aims to promote a holistic approach to a healthier way of life and, reinforces the revitalization of the students' native heritage.
9. The center values the special relation with all creation and respects the uniqueness of individuals. Its fundamental goal is to provide a meeting place for Native and non-native people.