RELATIVE CLAUSES (1) CLAUSES WITH WHO/THAT/WHICH
by Diana Eloisa Herrera Mata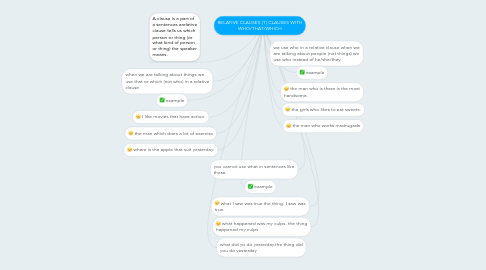 1. A clause is a part of a sentences arelative clause tells us which person or thing (or what kind of person or thing) the speaker means.
2. we use who in a relative clause when we are talking about people (not things) we use who instead of he/she/they.
3. example
4. the man who is there is the most handsome.
5. the girls who likes to eat sweets.
6. the man who works madrugada
7. when we are talking about things we use that or which (not who) in a relative clause
8. example
9. I like movies that have action.
10. the man which does a lot of exercise
11. where is the apple that suit yesterday.
12. you cannot use what in sentences like these.
13. example
14. what I saw was true the thing. I saw was true.
15. what happened was my culps. the thing happened my culps
16. what did yo do yesterday.the thing did you do yesterday