The Great Fire Of London
by amaka sam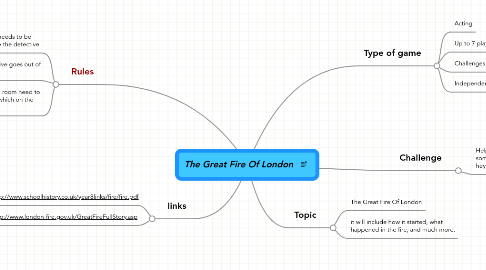 1. Rules
1.1. Somebody needs to be picked to be the detective.
1.2. the detective goes out of the room
1.3. everyone in the room need to pick up a card which on the table.
2. Type of game
2.1. Acting
2.2. Up to 7 players
2.3. Challenges on card
2.4. Independent intelligance
3. links
3.1. http://www.schoolhistory.co.uk/year8links/fire/fire.pdf
3.2. http://www.london-fire.gov.uk/GreatFireFullStory.asp
4. Challenge
4.1. Help people with something before hey tell you a clue
5. Topic
5.1. The Great Fire Of London
5.2. it will include how it started, what happened in the fire, and much more.