COMPARING DIRECT METHOD AND GRAMMAR TRANSLATION METHOD.
by Jaime Argueta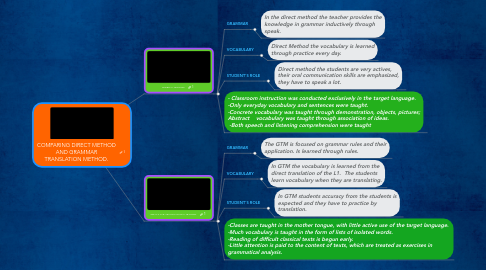 1. DIRECT METHOD
1.1. GRAMMAR
1.1.1. In the direct method the teacher provides the knowledge in grammar inductively through speak.
1.2. VOCABULARY
1.2.1. Direct Method the vocabulary is learned through practice every day.
1.3. STUDENT'S ROLE
1.3.1. Direct method the students are very actives, their oral communication skills are emphasized, they have to speak a lot.
1.4. - Classroom instruction was conducted exclusively in the target language. -Only everyday vocabulary and sentences were taught. -Concrete vocabulary was taught through demonstration, objects, pictures; Abstract vocabulary was taught through association of ideas. -Both speech and listening comprehension were taught
2. GRAMMAR TRANSLATION METHOD
2.1. GRAMMAR
2.1.1. The GTM is focused on grammar rules and their application. Is learned through rules.
2.2. VOCABULARY
2.2.1. In GTM the vocabulary is learned from the direct translation of the L1.  The students learn vocabulary when they are translating.
2.3. STUDENT'S ROLE
2.3.1. In GTM students accuracy from the students is expected and they have to practice by translation.
2.4. -Classes are taught in the mother tongue, with little active use of the target language. -Much vocabulary is taught in the form of lists of isolated words.                                 -Reading of difficult classical texts is begun early. -Little attention is paid to the content of texts, which are treated as exercises in grammatical analysis.