Nutrition and Food Practice
by pree pree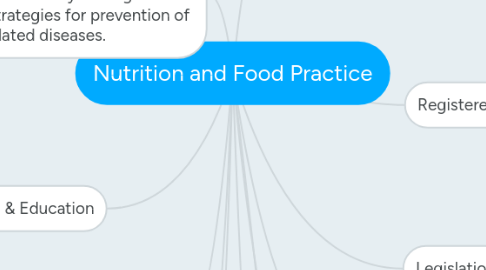 1. Registered Dietitian vs. Nutritionist
1.1. Regulated Profession
1.2. Counseling patient on special diet modifications
1.3. Consulting practices to provide expertise in nutrition, as well as promote health and prevent disease
1.4. Dietitians are regulated health professionals. The title 'dietitian' is protected by law. Nutritionist is not a protected title – that means anyone can use it.
1.5. Must pass a registration exam to become a regulated health professional.
2. Legislation
2.1. PPMT50
3. Research
3.1. New Knowledge
3.2. Evidence-based
3.3. Working with pharmaceutical companies to provide research, develop products, and market better food and nutritional products in a business setting
4. Didatic programs in Dietetics (DPD's)
4.1. Foundation knowledge and skills
5. Dietetic Internship/Integrated Masters
5.1. Integrating knowledge and skills to competency development
5.2. Clinical supervision
5.3. Reflection
5.4. Critical thinking
5.5. 1250 hours of supervised, hands-on training in food systems, disease management, population health, communications and counselling.
6. Nutrition Care Process
6.1. Nutrition assessment
6.2. Diagnosis
6.3. Intervention
6.4. Monitoring and evaluation
7. Health Promotion & Education
7.1. Supporting sustainability
7.2. Food safety
7.3. Eating from the four food groups
7.4. Teaching nutrition, food chemistry, or food service administration to clients and students in any health profession and at all levels of education.
8. Leaders in the Food System
8.1. Pormote Sustainability
8.2. Promote healthy diet and active lifestyle
9. Food Services Management
9.1. Patient tray auditing
9.2. Menu planning
9.3. Medical nutrition therapy
9.4. Large quantity cooking
10. Public Health
10.1. Leadership of dietitians with expertise in nutrition, food systems and related public health sciences.
10.2. encompasses the assessment, promotion, protection and enhancement of health and the prevention of nutrition-related diseases.
10.3. - Interactions among the determinants of health
10.4. Food security
10.5. Nutritional health
10.6. Overall health
11. Professional Socialization
11.1. The acquisition of values, attitudes, skills and knowledge pertaining to dietetics professional subculture
12. Assessing, promoting, protecting, and enhancing the health of the general public in a community setting and providing strategies for prevention of nutrition-related diseases.
12.1. Delivers nutrition therapy by using the nutrition care process