My Personal Writing History
by Rebecca King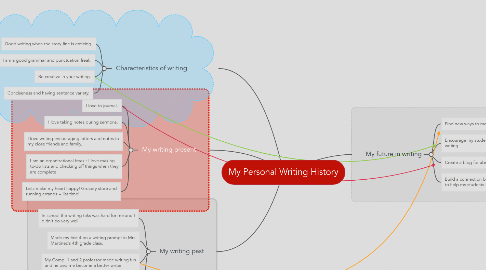 1. My future in writing
1.1. Find new ways to make writing interesting
1.2. Encourage my students to be creative in their writing.
1.3. Create a blog for about my future classroom.
1.4. Build a connection between reading and writing to help my students improve in both areas.
2. My writing past
2.1. In school the writing taks was hard for me and I didn't do very well.
2.2. Made my first 4 on a writing prompt in Mrs. Martinez's 4th grade class.
2.3. My Comp. 1 and 2 professor made writing fun and helped me become a better writer.
2.4. In my Comp. 1 class I made my first A on a paper.
3. My writing present
3.1. I love to journal.
3.2. I love taking notes during sermons.
3.3. I love writing encouraging letters and notes to my close friends and family.
3.4. I am an organizational freak : I love making to-do lists and checking off things when they are complete.
3.5. Lists make my heart happy! Grocery store and running errands = list time!
4. Characteristics of writing
4.1. Good writing when the story-line is enticing.
4.2. I am a good grammar and punctuation freak.
4.3. Be creative in your writing.
4.4. Conciseness and having sentence variety.