Sir Robert Bryson Hall II aka LOGIC
by Julisa Vinas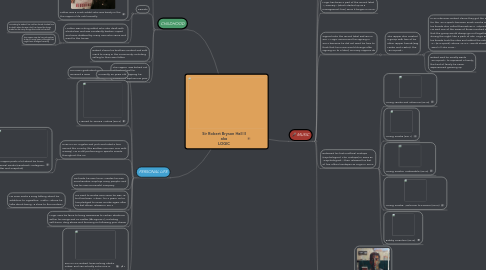 1. MUSIC
1.1. Began to increase his intrest in rap when he was 15, but did not actually focus and pursue his rapping career until he was 17 and lived on his own
1.1.1. The rapper says that his friend and mentor, who he met in eight grade, Solomon Taylor, encouraged his interest in hip-hop
1.1.2. Logic bases his music off of Frank Sinatra and calls himself Young Sinatra because of how much he was inspired by Frank's work. He feels he relates to Sinatra in many ways, including both having deep blue eyes
1.2. Talked in an interview about wanting to write music that will challenge the mind; explaining his initial stage name "Psychological". He later shortened it to "Logic"
1.3. Logic has been a part of the record label "Visionary" (which started up as a management firm) since it began in 2010.
1.4. Signed onto the record label DefJam in 2011, Logic announced his signing in 2013 because he did not want his fans to think that his music would change after signing on to a label; as many rappers do
1.4.1. The rapper also created a group with two of his other rapper friends (Big Lenbo and Castro), the "RATTpack"
1.4.1.1. In an interview, Robert claims they got the idea for the "RATTpack' because Frank Sinatra and his friends also called themselves a "ratpack". He said one of the wives of those involved said that the group would always go out together during the night, like a pack of rats. Logic and his friends took the idea and added the extra "T" (RATTpack), where "RATT'' would stand for "Real All The Time"
1.4.1.2. Robert said he mostly wants "RATTpack" to represent a family; the kind of family he never experienced growing up.
1.5. Released his first unofficial mixtape (Psychological: The Mixtape) in 2009 as "Psychological", then released his first of five official mixtapes as Logic in 2010:
1.5.1. Young, Broke and Infamous (2010)
1.5.2. Young Sinatra (2011)
1.5.3. Young SInatra: Undeniable (2012)
1.5.4. Young Sinatra: Welcome to Forever (2013)
1.5.5. Bobby Tarantino (2016)
1.6. Albums released:
1.6.1. Under Pressure (2014)
1.6.2. The Incredible True Story (2015)
2. CHILDHOOD
2.1. Grew up in Gaithersburg, Maryland
2.2. Parents
2.2.1. Father was a crack addict who was barely in the the rapper's life until recently
2.2.2. Mother was a drug addict who also dealt with alcoholism and was constantly beaten, raped and even stabbed by many men who came and went to the house
2.2.2.1. According to Robert, his mother almost choked him to death when he was a kid; he claims the drugs made her do many things she could not control
2.2.2.2. The rapper says he has not spoken to her in many years; although that might have changed recently
2.3. Robert claims his brothers cooked and sold crack to many in the community, including selling to their own father
2.4. The rapper  was kicked out of high school for constantly skipping his classes his sophomore year
2.4.1. He never graduated nor recieved a GED
3. PERSONAL LIFE
3.1. Currently 26 years old
3.2. Married to Jessica Andrea (2015)
3.3. Lives in Los Angeles and just concluded a tour around the country (the Endless Summer Tour with G-Eazy). He is still performing in specific events throughout the US
3.3.1. The rapper posts a lot about his tours on social media (Facebook, Instagram, Twitter and Snapchat)
3.4. He funds his own tours, creates his own merchandise, employs many people, and has his own successful company
3.5. He used to smoke ever since he was 13, but has been "clean" for 2 years, as he has pledged to never smoke again after his first album release in 2014
3.5.1. He even wrote a song talking about his addiction to cigarettes, "Nikki", where he talks about being "a slave to the nicotine"
3.6. Logic uses his fame to bring awareness to certain situations within his songs and on Twitter (@Logic301); including self-harm, drug abuse and focusing on following your dream
3.7. FUN FACT: Robert loves solving rubik's cubes, and can actually solve one in less than 50 seconds (*link)