KRASHEN'S MONITOR MODEL
by Mariana Olea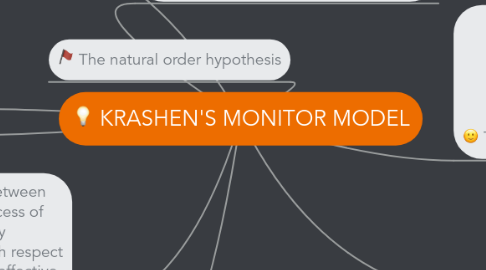 1. The natural order hypothesis
2. The affective filter hypothesis
3. Captures the relationship between affective variables and the process of second language acquisition by positing that acquirers vary with respect to the strengthor level of their affective filters
4. We acquire the rules of language in a predictable order, some rules tending to com eearly and other late
5. The acquisition learning hypothesis
6. The monitor hypothesis
7. "Learning has only one function, and that is as a monitor or editor and that learning comes into play only to "make changes in the form of our utterance, afther it has been PRODUCED by the acquired system"
8. The input hypothesis
9. Comprenhensible input is defined as second language input just beyond the learner's current second language competence, in terms of it's syntactic complexity.