CELTS TO ANGLO SAXONS
by BRENDA ROMAN RODRIGUEZ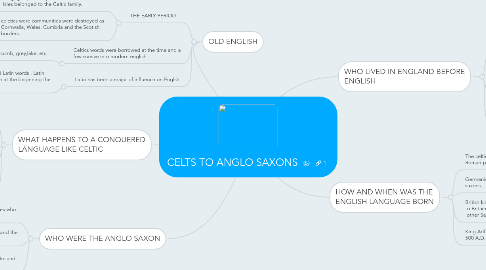 1. WHO LIVED IN ENGLAND BEFORE ENGLISH
1.1. Came from iberian peninsula after de last Ice Age.
1.2. Agriculture  arrived in britain beetween 400 and 2000 BC.
1.3. Neolithic Britian people began to live in communities  and make stone temples.
1.4. Original inhabitants of both Britian and Spain were the celts and Indo_european groups called GAels or Gauls
2. HOW AND WHEN WAS THE ENGLISH LANGUAGE BORN
2.1. The celtics Britons accustomed to living with Roman protection.
2.2. Germanic tribes were Jutes, the Angles and the saxons.
2.2.1. Call the invading Germanic tribes "Anglo -Saxons)
2.3. British king invited Saxon Mercenaries to come to Britain to defend the island againsnt of the  other Saxon Pirates.
2.3.1. When they came they were stronger than Celts.
2.4. King Arthur fought the saxons a great battle in 500 A.D.
2.4.1. Arthur was dead ans Saxons invaded bRitain with no obstacles-
3. WHAT HAPPENS TO A CONQUERED LANGUAGE LIKE CELTIC
3.1. Anglo saxons exterminated the Celtic people and the celtic Language.
3.1.1. Modern DNA shows that the extermination never happened.
3.2. celtics survivor escaped from England to the neighborings area of wales,Scotland and Ireland.
3.2.1. Moder British people have very tltle Anglo-Saxon blood.
3.3. Britons are mostly Iberian,like the SPANISH
3.4. Celtic words survive in English WHISKEY from the celtic word of water of life
4. WHO WERE THE ANGLO SAXON
4.1. They were illiterate farmers ans pirates who practiced a pagan religion.
4.2. They believed that gods, humanity and the world would all end some day
4.2.1. Their gods :Tuesday comes from their war-god, Tewks, Wednesday from the king of the gods
4.3. Some celts were Chritians, especially Ireland (beginning in the 4th century.
4.3.1. St. Augustine of Canterbury wnet to England with 40 onks as missionaries to convert the Anglo-Saxon to Christianity.
5. OLD ENGLISH
5.1. THE EARLY PERIOD
5.1.1. Languge spoken by the natives of the British Isles belonged to the Celtic family.
5.1.2. celctics were communities were destroyed as Cornwalla, Wales, Cumbria and the Scotish borders.
5.2. Celtics words were borrowed at the time and a few survive into modern english
5.2.1. carg, cumb, grey,lake, etc.
5.3. Latin has been a major of influence on Englsh
5.3.1. Anglo_saxon tribesused Latin words . Latin words present in English at the beginning the saxon period.