Alexander McQueen
by kadeliah lindsay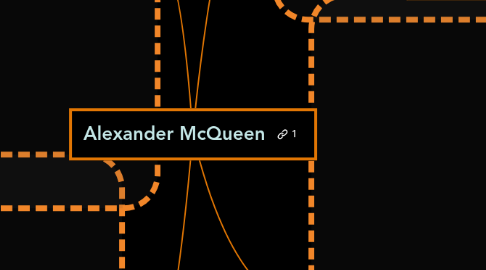 1. Death
1.1. McQueen's death was announced on the afternoon of 11 February 2010. In the morning, his housekeeper found hanged at his home on green street, London W1 paramedics where called and pronounced him dead at the scene.
1.2. McQueen died nine days after his mother Joyce died of cancer at the age of 75. McQueen was doing a lot of drugs at the time and he wasn't happy. At the time of his death it came to just days before London Fashion Week , although he was not scheduled to appear there.
1.2.1. Thing McQueen said or wrote was? "look after my dogs,sorry I love you, Lee." Before hanged himself, with his favourite brown belt, he had taken a drug overdose.
2. His childhood
2.1. Lee Alexander McQueen was born on March 17th 1969 in Lewisham,London.
2.2. McQueen had five siblings. He grew up in a council flat and attended carpenters road primary school and he started to make dresses for his three sisters at a young age and that's when he knew he wanted to become a fashion designer.
2.3. McQueen then later attended Rokeby school and left at aged 16 in 1985 with one O-level in art. He was going to serve an apprenticeship with Savile row tailors before joining Gieves&Hawkes. Later while serving his apprenticeship McQueen attended the Rosetta studio workshops led by Yvonne Humble The skills he learned as an apprentice on Savile Row helped earn him a reputation in the fashion industry as an expert in creating wonderful pieces.
3. Career
3.1. While on Savile Row McQueen's clients, which included Mikhail Gorbachev and Prince Charles . Then at the age of 20, he spent a period of time working for Koji Tatsuno before he travelled to Milan, Italy and working for Romeo Gigli
3.2. McQueen then returned to London and applied to central saint martins college of art and design, to work as a pattern cutter tutor. He then recieved a masters degree in fashion design and his 1992 graduation collection was boughtin its entiety
3.3. or McQueen design the wardrobe for David Bowie's tours in 1996-1997, as well as the Union Jack coat also worn by Bowie on the cover of his 1997 album Earthling.
4. Personal Life
4.1. McQueen was realised that he was gay when he was 6 years old. H e then told his family when he was 18 years old and after a bumpy period he that accepted his sexuality. In the summer of 2000 McQueen had a marriage ceremony with his partner George Forsyth. Even though the marriage was not official as the the same sex marriage was not made legal in Spain at the time. the relationship soon ended a year later and they both maintained a close friendship.
4.2. Then McQueen then received media attention after May 2007 suicide of international style icon Isabella Blow. Rumours were published that there was conflict between McQueen and Blow at the time of her , focusing on McQueen's under-appreciation of Blow.