2010 Mindmap
by Bella Tafolla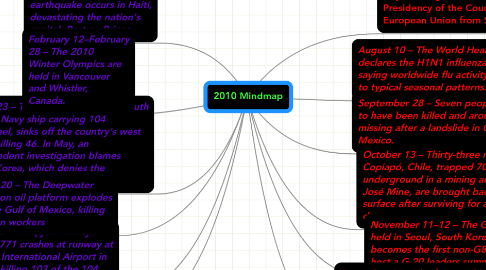 1. June 11–July 11 – The 2010 FIFA World Cup is held in South Africa, and is won by Spain.
2. March 23 – The ROKS Cheonan, a South Korean Navy ship carrying 104 personnel, sinks off the country's west coast, killing 46. In May, an independent investigation blames North Korea, which denies the allegations.
3. May 12 – Afriqiyah Airways Flight 771 crashes at runway at Tripoli International Airport in Libya, killing 103 of the 104 people on board
4. April 20 – The Deepwater Horizon oil platform explodes in the Gulf of Mexico, killing eleven workers
5. January 12 – magnitude earthquake occurs in Haiti, devastating the nation's capital, Port-au-Prince.
6. February 12–February 28 – The 2010 Winter Olympics are held in Vancouver and Whistler, Canada.
7. July 1 – Belgium takes over the Presidency of the Council of the European Union from Spain.
8. August 10 – The World Health Organization declares the H1N1 influenza pandemic over, saying worldwide flu activity has returned to typical seasonal patterns.
9. September 28 – Seven people are reported to have been killed and around 100 are missing after a landslide in Oaxaca, Mexico.
10. October 13 – Thirty-three miners near Copiapó, Chile, trapped 700 metres underground in a mining accident in San José Mine, are brought back to the surface after surviving for a record 69 days.
11. November 11–12 – The G-20 summit is held in Seoul, South Korea. Korea becomes the first non-G8 nation to host a G-20 leaders summit.
12. December 21 – The first total lunar eclipse to occur on the day of the northern winter solstice/southern summer solstice since 1638, takes place.