Pitter Patter Pet Sitting: SWOT Analysis
by Zoie Harper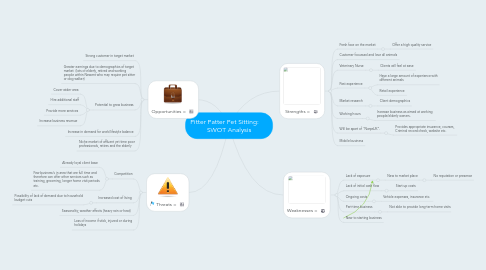 1. Strengths =
1.1. Fresh face on the market
1.1.1. Offer a high quality service
1.2. Customer focussed and love all animals
1.3. Veterinary Nurse
1.3.1. Clients will feel at ease
1.4. Past experience
1.4.1. Have a large amount of experience with different animals
1.4.2. Retail experience
1.5. Market research
1.5.1. Client demographics
1.6. Working hours
1.6.1. Increase business as aimed at working people/elderly owners.
1.7. Will be apart of "NarpsUK".
1.7.1. Provides appropriate insurance, courses, Criminal record check, website etc.
1.8. Mobile business
2. Weaknesses =
2.1. Lack of exposure
2.1.1. New to market place
2.1.1.1. No reputation or presence
2.2. Lack of initial cash flow
2.2.1. Start up costs
2.3. Ongoing costs
2.3.1. Vehicle expenses, insurance etc.
2.4. Part-time business
2.4.1. Not able to provide long-term home visits
2.5. New to starting business
3. Threats =
3.1. Competition
3.1.1. Already loyal client base
3.1.2. Few business's in area that are full time and therefore can offer other services such as training, grooming, longer home visit periods etc.
3.2. Increased cost of living
3.2.1. Possibility of lack of demand due to household budget cuts
3.3. Seasonality, weather effects (heavy rain or heat)
3.4. Loss of income if stick, injured or during holidays
4. Opportunities =
4.1. Strong customer in target market
4.2. Greater earnings due to demographics of target market (lots of elderly, retired and working people within Newent who may require pet sitter or dog walker)
4.3. Potential to grow business
4.3.1. Cover wider area
4.3.2. Hire additional staff
4.3.3. Provide more services
4.3.4. Increase business revenue
4.4. Increase in demand for work/lifestyle balance
4.5. Niche market of affluent yet time poor professionals, retires and the elderly