Creative Business Toolkit
by
Helen Baxter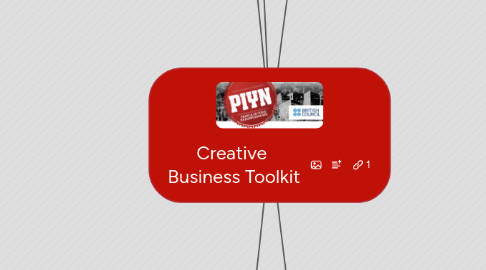 5.0
stars -
3
reviews range from
0
to
5
This presentation is from a workshop developed by Helen Baxter, Mohawk Media for the People in Your Neighbourhood project from the British Council in New Zealand, to enable young urban artists to produce, promote and sell their work. http://piyn.net
Strategy
Strategy gives direction
"There must be a plan but the plan will change"
Long term business plans at based on guesses
Short term action plans are best
A clear roadmap ahead
Put some goals for no more than two years ahead then focus on 12 week cycles
Where?
In your wildest dreams
what country?
location?
What pace of life?
What do you see out of the window?
Why?
What motivates you?, Independence, Family, Money, Prestige, Fulfilment
When?
Set some milestone dates
How?
Key steps to achieve
How do you dig a hole?
Plan your approach
Strategy then tactics
Action Plan, Strategic, Money, Operations, Promotions
Gap Analysis
Where do you want to be?
Where are you now?
SWOT Analysis
SMART
Set Goals
Specific, Measurable, Achievable, Realistic , Timed
Self Publishing Tools
Music
CD Baby, CDs & Digital downloads, How much do artists earn online?, Music Industry & Online Piracy numbers, What they do, How it works, Derek Sivers
Musichype, brings music fans closer to the bands they love
Amplifier
Writing
Lulu.com, Books, Calendars
Bookbaby
Blurb
Tweetbookz
Crafts
Etsy, Your own craft store
Spoonflower, Custom printed fabric, No minimum order
Felt
Toggle
Merchandise
Zazzle, Tshirts, Skateboards, Hoodies, Add storefronts to your site
Shoes, Shoes of Prey, Design bespoke women's shoes
Yoga Mats, Yogamatic
Art
Imagekind
Designs
Ponoko, Jewellery, Furniture, Art,
3D Objects
Shapeways, "we bring your 3D design to life"
Graphics
Behance network
Deviant Art
Management Toolkit
Automate or delegate?
Free, or freemium tools
Backups
Mozy.com
Gmail & Docs
Spideroak
Email
Gmail
Projects & Tasks
Team Work PM
Files
GDocs
DropBox
Wetransfer
Invoicing
Xero
Blinksale
Billing Boss
Paypal
Knowledge
Diigo
Feedly
Pearltrees
Mindmeister
Media Monitoring
Google Alerts
Twitter
Money
Xero
Pocketsmith
Heaps
Presentation
Prezi
Mindmeister
Publishing
Wordpress, PIYN 2010, Content Management System, Can be hosted at Wordpress or your own server
Social Media Management
Hootsuite
Talk/Videoconferencing
Skype
Google Chat
Dim Dim
Time
Doodle
Trends
Trendwatching
Springwise
Money
Paypal
Derek Sivers is the founder of CD Baby and says in his essay on paying, "Don't forget that there are lots of people like me that like to pay! Appeal to this side of people, giving them a feel-good reason to pay. Tell them what their payment will go to support. Show them how appreciated it is. Some will feel good about paying. It will actually make them happy to give you money. Let them."
Paypal Storefront, Host images on Picasa / Flickr, Add products to your own store, Embed storefront to Wordpress, Request Money, Create an invoice
Merchant services, Donations Buttons
Goodsie, Online storefront
Crowdfunding
Raise funds from your fans
Crowdfund your Creativity
Indiegogo
Sellaband
Givealittle, NZ Donations & Fundraising, Sharing the Safari
Threadless
Design by Humans
Management
Pocketsmith
Heaps
Xero
Friends, family & fools
Bootstrapping
Self financing rather than investors
Cashflow is King
Proves your business model
Banks & investors like to see bootstrapping & sweat equity
Bootstrappers Bible, Free ebook
Social micropayments