computer components
by Mariah Jenks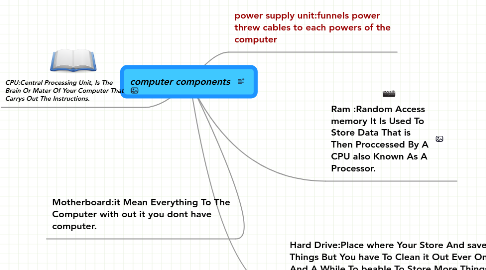 1. CPU:Central Processing Unit, Is The Brain Or Mater Of Your Computer That Carrys Out The Instructions.
2. power supply unit:funnels power threw cables to each powers of the computer
3. Ram :Random Access memory It Is Used To Store Data That is Then Proccessed By A CPU also Known As A Processor.
4. Hard Drive:Place where Your Store And save Things But You have To Clean it Out Ever Once And A While To beable To Store More Things On It.
5. Motherboard:it Mean Everything To The Computer with out it you dont have computer.