The Sheer Perfection of Donald Trump's Golden Shower
by Alexis Jade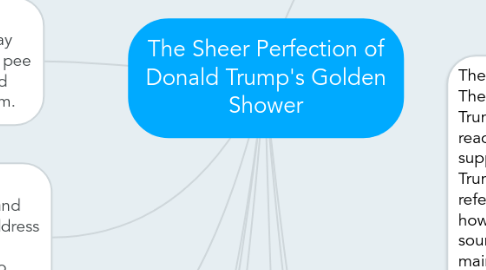 1. Here's why the theory that Taylor Swift is a satanist clone absolutely checks out
1.1. Hiddleswift
2. Intel Chiefs Presented Trump With Claims That Russia Has 'Compromised' Him
2.1. Intel chiefs presented Trump with claims of Russian efforts to compromise him
2.1.1. Russia denies having compromising material on Donald Trump
3. How Do You Solve a Problem Like Pizzagate?
3.1. The Comet Ping Pong Gunman Answers Our Reporter's Questions
3.1.1. In Washington Pizzeria Attack, Fake News Brought Real Guns
4. @TakaPolitika Jan 10 Donald Trump hates Obama so much for making fun of him and being black, that he hired prostitutes to PEE on the bed he slept in.
5. @PeterHoare Jan 10 Barack Obama: Delivers classy and heartfelt farewell presidential address Donald Trump: May have paid to watch a Russian pee pee show
6. @Trollin_Trump Jan 16 I'm so tired of hearing people say @realDonaldTrump paid girls to pee on him. Well all know he claimed subpar urine and didn't pay them.
7. These Reports Allege Trump Has Deep Ties To Russia
7.1. Intel chiefs presented Trump with claims of Russian efforts to compromise him
7.1.1. Russia denies having compromising material on Donald Trump
8. Melania Trump on Her Rise, Her Family Secrets, and Her True Political Views: "Nobody Will Ever Know"
9. The original article was headlined The Sheer Perfection of Donald Trump's Golden Shower, telling readers it would be about a supposed scandal involving Donald Trump. The article, in itself, references many other articles, however very few of them are actual sources connected to the headline's main idea. Most articles featured lead to very unrelated information, for promos maybe. For example, The original article being analyzed is about President Elect, Donald Trump, which references a comical conspiracy theory about Taylor Swift maybe being a satanist, a completely difference online magazine. This tells us that despite some news being "breaking," some media outlets will still use the opportunity for ads and more money. The article references many things, but none of which actually pertain to the original topic. In fact, post of the article isn't even about this alleged scandal and mentions it very rarely, hinting at the new article just using this spotlight for ads.
10. @IvanDragoUSA Jan 11 Worst part about #GoldenShowers story is that Trump hired Russians to pee on bed. What happened to giving jobs to AMERICAN hookers?