ORANGE COUNTY PUBLIC SCHOOLS BOE MEETING FEBRUARY 8, 2011 (IO)
by Lacey Eaves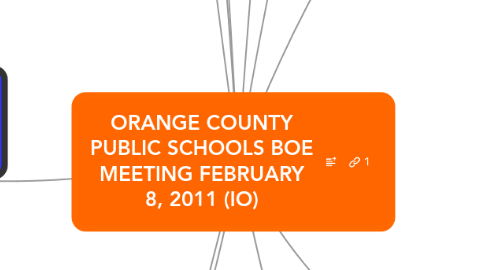 1. IV. CONSENT AGENDA (IO)
1.1. Representation from Classroom teachers: Concerns regarding FL policy of restraining and excluding students. Who does it and who is reporting and are staff trained? (MS)
1.1.1. New node
1.2. Explained: all teachers who restrain/exclude are trained. Whoever is involved in incident starts report, then it gets passed on to administration who report online to Dept. of Ed.(MS). DOE monitors and wll question if concerns arise. By Florida law parents have to be notified of any restraint or seclusion on the date such incident occurs. There also needs to be follow up with written notification as well as on-line report to the Department of Ed.(HP) The IEP needs to address the behavior concern. A behavior plan should be written by a Behavior Specialist.(MS)
1.3. BOE member concerned that this is not the correct forum to discuss this. Wants to know why this information couldn't be found out in a more efficient way? (LE) BOE member concerned of possible communication breakdown. (HP)
1.4. Chairman made recommendation for future concerns such as this and will discuss w/collective bargaining units to ensure information is being shared (LE).
1.5. Public comment closed. Motion to approve consent agenda approved (LE).
2. V. REPORTS BY BOE AND SUPERINTENDENT (LE)
2.1. Superintendent report on budget: Shared what he knows and feels they will be able to deal with whatever comes due to previous strategic planning (LE).
2.1.1. The Governor's budget is about what they expected: Less money per pupil spending, substantial reductions in all funds, property tax reductions and retirement reductions(LE).
2.1.1.1. Cautioned to watch House and Senate to see how closely they align with the governors budget (LE).
2.1.1.2. Chairman indicates they will probably not have a clear idea what they are going to be working with until April (LE).
3. VI. COMMITTEE REPORTS(MS)
3.1. Legislative Committee: review of previous meeting(LE).
3.2. General Council: Reported on National School Board Assoc. conference. Also took the time to recommend that black history be part of the curriculum year round, rather than just February(LE).
3.3. Vision: Discussed recent vision screenings at Evans HS. 2,000 students screened. All that helped in project thanked. There will be a follow-up for those students who did not pass screening. They will be analyzing data to look for correlations between vision and low FCAT scores, GPA, and discipline (LE). Vision committee will have more information forthcoming after meeting with the county. (HP)
3.3.1. Concerns noted by BOE member that teachers are unaware of students who have vision problems. Discussed possibility of making a notation on student progress book (online progress notes that parents can log in to as well).(? ) Superintendent responded that suggeston sounded like a common sense solution and will look into having notation on student progress book. Another BOE member suggested having a vision check reminder to parents on student progress book. (HP)
4. VII. POLICY (MS)
4.1. BOE member brought concerns regarding computerized GPA errors and would like this fixed b/c the incorrect GPA's are being sent to colleges and causing problems for students(MS)
4.1.1. Chairman requests computerized GPA concerns be put on next BOE meeting agenda (LE).
4.2. BOE member requests follow-up on Florida Hospital Grant in PE which gives 27 school districts money to help them meet the additional 150 PE minutes which are mandated by the state.(HP).
4.2.1. Chairman commented that person to address PE grant went home sick. Superintendent commented that they are participating but for the size of their county, participation is low. (HP)
4.3. BOE member questioned awareness of a bullying situation and requested follow-up on the situation(LE).
4.3.1. Superintendent commented that he will address BOE member's concern after meeting. (HP)
4.4. BOE member discussed possibility of increasing awareness of tech centers(LE).
4.5. Dicussion ESEA Authorization: If not re-authorized by July, all sanctions will be suspended(LE).
4.6. Unfunded mandates-looking to decrease or give relief(LE).
4.7. Chairman requested two Superintendents attend next BOE meeting to discuss a specific Charter school issue (LE).
4.7.1. Superintendent noted concerns about discussing specifics at public meeting w/out allowing Charter school opportunity to present (LE).
4.7.1.1. Chairman recognized concerns, altered request to a general briefing on what the BOE policy is regarding struggling Charter Schools (LE).
4.8. Approval of an Adult Education Career Pathways for Transitioning to Postsecondary Education Grant Application to the Florida Department of Education (IO)
5. VIII. FUTURE MEETING DATES DISCUSSED (MS)
6. IX. REPORT BY SCHOOL BOARD COUNCIL(HP)
6.1. None at this time(LE).
7. I. WELCOME (LE)
7.1. Moment of Silence & Pledge of Allegiance led by recognized staff member(IO).
7.2. Recognition of tragedies in community: death of students, injury of students, death of staff family member (IO).
7.3. Recognition of Support Person of the Year 2011 by Chairman of BOE(MS)(HP)
7.3.1. Ms. Presley was named Orange County Public Schools 2011 Support Person of the Year (IO)
7.4. Check of $35,000 presented to School district in support of education by My CFE4 Schools program (LE).
7.4.1. My CFE4 Schools program is when a member of the CFE (Credit Union) uses his/her debit card, funds are set aside for the school district. Last year $9,000 was given back to the district, this year $35,000 was given back to support quality education. (HP)
7.5. Recognition of newly appointed staff members who have been promoted from Assistant Principal to Principal(IO).
7.5.1. Principal Lawton Chiles Elementary – to Principal Azalea Park Elementary
7.6. Chairman recognized and welcomed Boy Scout troop working on a badge and gave disclaimer for rest of BOE meeting(LE)(HP)
7.6.1. Roll Call-all present(LE)
8. II. STRATEGIC PLAN UPDATE (LE)
8.1. Presentation by Food Service regarding strides to increase participation in district meal programs(IO).
8.1.1. What they have done to increase participation: menu focuses on student preference, approved by students first, annual Food Show, Mobile food van, nutrition education in classrooms, partnerships w/area chefs, Orlando Magic involved in PSA announcements, Chefs Move to Schools (LE).
8.2. Review of Food Service responsibilities (LE)
8.2.1. The goal is an increase in nutrition(LE).
8.2.1.1. School Food Service Manager Temporary - Food and Nutrition Services (New) Operations Subject to HR clearance and mutually agreed upon start date(IO)
8.3. Nutrition has been linked to increasing test scores. (HP)
8.3.1. Changes include: all bread is either light wheat or whole wheat, four choices of fruits/veggies in lunch daily, fruits and vegetables are fresh or frozen (no cans), four kinds of rice, three kinds of beans, lean meat, student designed salads, no transfat in baked goods. All junkfood and carbonated beverages were removed from schools in 2005. (HP)
8.4. An increase in participation at all levels has been noted(MS)
8.4.1. Eligibility is outpacing participation(LE)
8.5. Working on an online application for free/reduced(LE) to help increase participation especially at the high school level (HP)
8.6. Several initiatiess noted (HP)
8.7. Award Winning System- Recognized as District of Excellence (HP)
9. III. CHANGES TO AGENDA(LE)
9.1. Addendum to item (LE).
9.2. Withdrawal of a non-consent item(LE).
9.3. Motion to change adopted(LE).
10. X. BUSINESS FOR GOOD OF THE ORDER/ ADJOURNMENT (HP)
10.1. None at this time(LE)
10.2. Meeting adjourned(LE)
11. XI. LEADERSHIP STYLES EVIDENT AT BOARD MEETING (HP)
11.1. Combination of Authoitative, Affiliative, Democratic, and Coaching. These leadership styles are prevelant throught the meeting mainly by the Chairman. (HP)