Should cell phones be allowed in school?
by Evan Mullican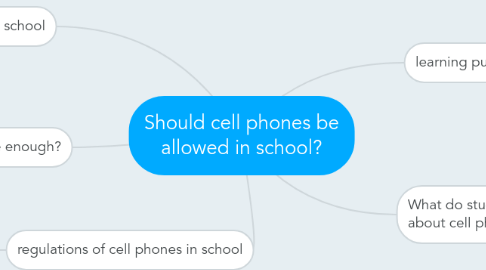 1. learning purposes
1.1. should the students only be allowed to use their phones for educational purposes?
1.2. what subjects would students use their phone for?
2. distraction in school
2.1. would students play on apps while in class?
2.2. should students be allowed to text parents?
2.3. what might cause a distraction?
3. Are students responsible enough?
3.1. what grade should students be allowed to bring their phones to class?
3.2. what happens if a student doesn't use their phone responsibly?
4. regulations of cell phones in school
4.1. should we add more rules with cell phones?
4.2. should we take away cell phones for students if they aren't using them properly?
5. What do students and teachers think about cell phones in school?
5.1. how many people want to be able to use their cell phones in school?
5.2. how many teachers would actually let their students use their cell phones during class?