Alin Nagy 2011
by
Alin Nagy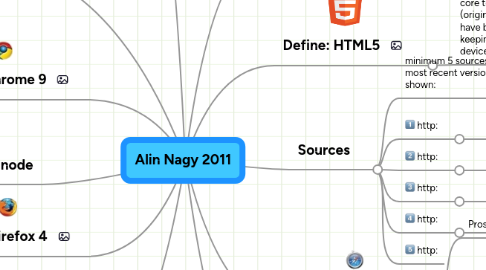 0.0
stars -
0
reviews range from
0
to
5
Alin Nagy 2011
Opera 11
Pros:
1, Interactive voice
2, Thumbnail previews
Cons:
1, Lacking widgets and add-ons
2, Not well known
Google Chrome 9
2, Simplicity
1, Very Fast
Cons:
1, Lack of add-ons when compared to the competitors
2, Not as popular as Explorer
Apple Safari 5
1, Very fast
2, Easy to use
Cons:
1, Comes with alot of unwanted software-I Tunes player,Quick time player,Boujour,Apple update
2, UI issues
Mozilla Firefox 4
1, Built-in spell checker
2, Cross-Platform versions for Mac and Lunix
Cons:
1, Slow start up
2, Lack Of A Status Bar
Explorer9
1, Pin-able links
2, Click to Zoom2. Sharper looking font
Cons:
1, Crowded user interface
2, Wonky color coding
Define: Browser
A web browser or Internet browser is a software application for retrieving, presenting, and traversing information resources on the World Wide Web. An information resource is identified by a Uniform Resource Identifier (URI) and may be a web page, image, video, or other piece of content.[1] Hyperlinks present in resources enable users to easily navigate their browsers to related resources.
Sources
minimum 5 sources, only most recent versions as shown:
Shorten your URLs at the following link:
http://bit.ly/
http:
http://www.squidoo.com/pros-and-cons-of-google-chrome
http:
http://ob.inqnetwork.org/index.php?option=com_content&view=article&id=56:firefox-4-beta-9-pros-and-cons&catid=35:applications&Itemid=62
http:
http://www.thewindowscenter.com/showthread.php?2447-6-Internet-Explorer-9-Beta-Pros-and-Cons
http:
http://en.wikipedia.org/wiki/HTML5
http:
Define: HTML5
HTML5 is a language for structuring and presenting content for the World Wide Web, a core technology of the Internet. It is the latest revision of the HTML standard (originally created in 1990) and currently remains under development. Its core aims have been to improve the language with support for the latest multimedia while keeping it easily readable by humans and consistently understood by computers and devices
Marketshare
Browser November February change relative IE 9.0 beta 0.32% 0.48% +0.16% +50.00% IE 8.0 29.49% 30.30% +0.81% +2.70% IE 7.0 11.90% 10.09% -1.81% -15.20% IE 6.0 6.45% 4.63% -1.82% -28.20% Firefox 4.0 beta 0.41% 0.93% +0.52% +126.80% Firefox 3.5+ 28.50% 27.89% -0.61% -2.10% Firefox 3.1- 2.26% 1.51% -0.75% -33.20% Chrome 13.32% 16.51% +3.19% +23.90% Safari 4.70% 5.07% +0.37% +7.90% Opera 2.02% 1.99% -0.03% -1.50% Others 0.95% 1.08% +0.13% +13.70% IE (all) 48.16% 45.50% -2.66% -5.50% Firefox (all) 31.17% 30.33% -0.84% -2.70%
To Flash or Not to Flash
New node