The Seven Learning Styles
by EnRiQuE Rios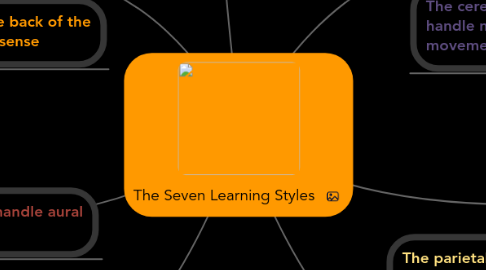 1. Verbal
1.1. Palabras
1.2. Habla
1.3. Escritura
2. Aural
2.1. Sonido
2.2. Musica
3. Social
3.1. Equipo
3.2. Grupos
4. Visual
4.1. Picture
4.2. Images
4.3. spatial understanding
5. Physical
5.1. Cuerpo
5.2. Manos
5.3. Tacto
6. Logical
6.1. Logica
6.2. Razonamiento
6.3. Sistemas
7. Solitary
7.1. Auto estudio
8. The occipital lobes at the back of the brain manage the visual sense
9. The temporal lobes handle aural content
10. The temporal and frontal lobes, especially two specialized areas
11. The cerebellum and the motor cortex handle much of our physical movement.
12. The parietal lobes, especially the left side, drive our logical thinking.
13. The frontal and temporal lobes handle much of our social activities.
14. The frontal and parietal lobes, and the limbic system, are also active with this style.