It is NOT okay to sneak food into the movies.
by Ian Donahue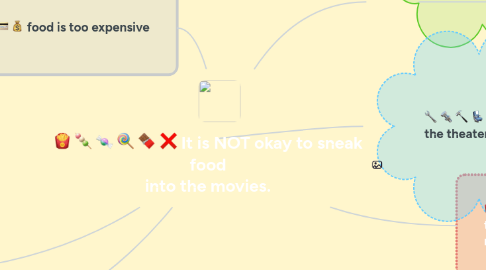 1. O'Neill, Justin. "Is It OK to Sneak Food into the Movies?" Scope. Scholastic, 01 Feb. 2017. Web. 22 Mar. 2017. <http://scope.scholastic.com/system/files/private/SCOPE-020117-Debate_S>.
2. food is too expensive
2.1. "Theater owners have to pay their employees, keep their buildings clean, and provide the latest high-tec projection equipment."
3. Sen, Mayukh. "Is It Ever Okay to Sneak Food into a Movie Theater?" Food52. N.p., 31 Jan. 2017. Web. 22 Mar. 2017.<https://food52.com/blog/18952-is-it-ever-okay-to-sneak-food-into-a-movie-theater>.
4. You make theaters put in security to bust people so profits increase
4.1. "A guard busted one woman and banished her to a drab corner seating area to forbidden food before a matinee,"( Sen).
5. It is not good to bring food in for the theaters be cause there are rools agenst it
5.1. "It's against the rules. Breaking those rules can have severe consequences too,"(O'Neill 17).
6. They need money to maintain the theater
6.1. "Theater owners have to pay their employees, keep their buildings clean, and provide the latest high-tech projection equipment. "If we can't keep a majority of that ticket price there's only one way that we can pay for everything . . . and that's at the concession stand," says movie theater owner Jon Goldstein," (O'Neill 17.)