Digital Formative Assessment Tools
by Attalie Neal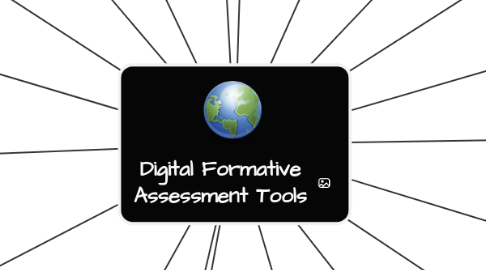 1. Pro Profs
1.1. With ProProfs teachers can create online tests, quizzes, flashcards, brain games, polls, and live chat environments for their students.
2. Naiku
2.1. With Naiku teachers can share common and formative assessments, and track student performance.
3. Poll Everywhere
3.1. Poll Everywhere allows the class to visualize student responses in a word cloud.
4. Flip Quiz
4.1. Flip Quiz allows teachers to create game show style boards for test reviews.
5. Triventy
5.1. Triventy is a platform which enables teachers to write, run and host live quizzes and surveys in classrooms or at events. The players will participate in the quiz using their smartphones - without any prior installation - while you host the quiz from your laptop or smartphone.
6. Quizalize
6.1. Quizalize allows teachers to turn quizzes into multi player classroom games or assign a quiz for homework.
7. Kahoot
7.1. Kahoot is a collection of questions on specific topics. Created by teachers, students, business-people and social users, they are asked in real-time, to an unlimited number of "players", creating a social, fun and game-like learning environment. Teachers can choose from quizzes, quick polls, and games.
8. The Answer Pad (TAP)
8.1. The Answer Pad is a platform for digital student responses that also grades for you.
9. Google Forms
9.1. Teachers can create a Google Form to gather student feedback on anything. It's a very popular use for short quizzes
10. Socrative
10.1. Socrative is a digital assessment tool that allows students to respond to multiple types of questions, grades your quizzes for you, and allows you to see your students results in real time for instant feedback.
11. Quizizz
11.1. Teachers can create quiz games for the class to play. Teams can practice and learn together as they compete.
12. Plickers
12.1. Plickers is the clicker system, without the clicker. With an iPad or iPhone students can scan their "paper clickers" to check for understanding in their responses.
13. Quizlet
13.1. With Quizlet your students can study anything with flashcards and games. Create your own study set, or choose from sets already made by other users.
14. Brainrush
14.1. Brain Rush provides adaptive practice games in all sorts of content areas.
15. Obsurvey
15.1. Obsurvey lets teachers create quick questionaires and surveys for their students to fill out with a digital response.
16. Nearpod
16.1. With Near Pod, teachers can create or download interactive lessons to then share with students. Teachers can control the activity within the lesson, and see students submit answers to the content questions within.
17. iClicker
17.1. iClicker is a clicker response system that can be purchased for use in classrooms and businesses.
18. EdPuzzle
18.1. EdPuzzle allows teachers to put interactive questions into any You Tube video to make lessons more engaging. Your students can answer questions as you go when you're using a video in your lesson.
19. GoFormative
19.1. Formative is an assessment tool where students can type, draw, or submit images to demonstrate their understanding.
20. Go Soap Box
20.1. Go Soap Box is a web based clicker tool that teachers can use to gather student responses and measure content comprehension.