PARKING PROBLEMS
by Raul Mandujano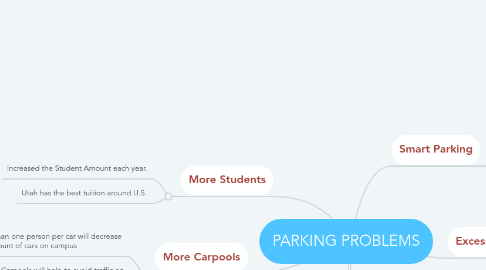 1. More Students
1.1. Increased the Student Amount each year.
1.2. Utah has the best tuition around U.S.
2. Excess of Cars
2.1. Everyone move with their cars
2.2. Bad use of the space inside the car.
3. Insufficient Parking lots
3.1. We need more parking buildings or underground one
3.2. We need smart parkings to make them let us know when there is a free spot.
4. Smart Parking
4.1. Having more smart cars will decrease the amount of cars on the campus
4.2. Smart Buses will help the option to give free rides to students around campus
4.3. The option to use Apps to find a parking lot faster.
5. More Carpools
5.1. More than one person per car will decrease the amount of cars on campus
5.2. Carpools will help to avoid traffic on campus
6. Underground Parking
6.1. This method of parking will give more space for parking lots
6.2. This will decrease the traffic around the camputs
6.3. This will make students move around campus with freedrom