Etapy procesu badawczego
by Agata Tararuj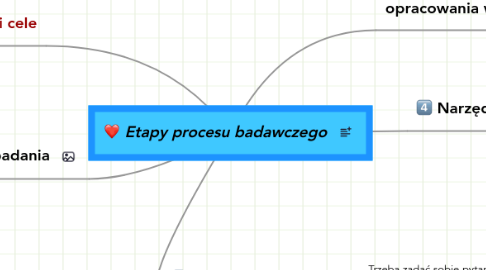 1. Problem badawczy i cele
1.1. eksploracja
1.2. opis
1.3. wyjaśnienie
2. Określenie zakresu badania
2.1. zakres podmiotowy
2.1.1. Online Help
2.1.2. Use Cases & Templates
2.1.2.1. Personal Todo List
2.1.2.2. Vacation Planning
2.1.2.3. Meeting Minutes
2.1.2.4. Project Plan
2.1.2.5. more...
2.1.3. Tools and Gadgets
2.1.3.1. Offline Mode
2.1.3.2. Geistesblitz Tools
2.1.3.3. Email & SMS Gateways
2.1.3.4. Compare Editions
2.2. zakres przedmiotowy
3. Określenie metod badawczych i technik badań
3.1. Trzeba zadać sobie pytanie jaka metoda będzie najlepiej badać dany problem, a także przede wszystkim jakie metody są możliwe do zastosowania w praktyce
4. Narzędzia badawcze
4.1. Określenie jakich narzędzi badawczych chcemy użyć. Może to być, np. kwestionariusz ankiety, wywiadu.
5. Określenie formy i zakresu opracowania wyników
5.1. Można określić kto będzie analizował dane, jakie techniki analizy zostaną zastosowane, czy chodzi o opis, czy o wyjaśnienie zjawiska itp.