Collaboration Tools
by
Patricia Anderson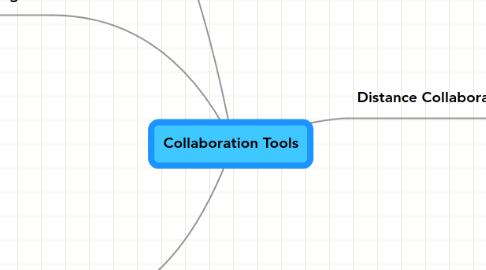 5.0
stars -
1
reviews range from
0
to
5
Collaboration Tools
Physical Collaboration
Whiteboards
Flip charts
Distance Collaboration
"Traditional"
EMail
Phone
Common
Sharepoint
Google, Google Docs, Google Groups, Google Sites, Google Forms, Google Calendar
CTools, UM, not easily accessible for off-campus collab, wiki functionality weak
Conferencing
Video conferencing
WebEx
DimDim
Skype
Content production
Google Docs
Zoho
Wikis, Barriers, Challenges, Learning curve, Adoption, Examples, CTools, Sharepoint, PBwiki, LS&A, Wetpaint, Pros, Cons
Desktop Sharing
MS Communicator
Apple Chat
Skype
WebEx
Adobe Connect
Dimdim
Education
xtimeline
Wikis
File sharing
Dropbox, Open folder on any computer, work in that folder, Sharing, Share with multiple computers, public sharing, sharing "friends", can use on the web, very fast, Easy for Mac users, hard for PC, DSS will not allow, Privacy concerns
4Shared
SugarSync
Soonr
"Google Docs", Maybe, Buy more storage
M-Files, "stinks", frequent crashes, trouble with large files, have to teach user FTP
Image Sharing
Flickr
Picasa
Dropbox
Meetings
Calendaring tools
Find a time, Doodle, Time.is
Polling
PollDaddy
SurveyMonkey
Google Forms
Doodle
PollEverywhere
Zoomerang
Zoho Polls
Productivity / Sharing with Myself
Etherpad, Track changes in real time, Time lapse video of use
Dropbox
Slidesharing
Slideshare
Zoho
Virtual Worlds
Second Life
OpenSim
ReactionGrid
Issues & Challenges
Culture of collaborators
Finding tools in common
barriers to adoption
time to learn
"If I can't figure it out in 3 minutes"
training
support
tracking new tools
how do I find new tools?
how do I find out if a tool exists for what I want?
how do I find out if there is a different tool that meets my needs better than what I already use?
is it worth the effort to learn a new tool, even if it is 'better'?
Cloud vs file-based
Real-time vs asynchronous
sharing/publishing vs collaborating
private vs public
Tips for adopting
KISS: keep it simple
Identify the need
Does tool fulfill existing or new need?
Do barriers to adoption exist in target audience?