Web 2.0 for my Personal Learning Environment
by
barbara nicolls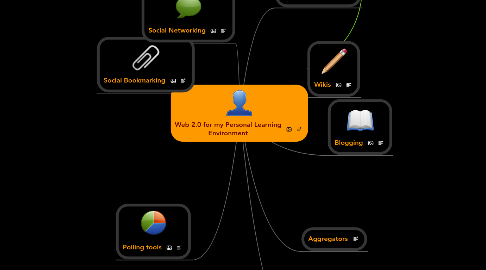 0.0
stars - reviews range from
0
to
5
Web 2.0 for my Personal Learning Environment
I have used Mind Meister to create this mind map which illustrates the Web 2.0 tools I have learned to use to contribute to my t-eL journey. I have used most of them in my teaching but I would like to be able to use them with my colleagues at work so I am not like a sore thumb sticking out!
Blogging
I use Google Blogger - a blog-publishing service that allows private or multi-user blogs with time-stamped entries. I have created a blog for every course I teach to record my reflections and sometimes share with my colleagues for feedback My social t-eL journey is my reflection log for R&C http://mysocialt-eljourney.blogspot.com/
Wikis
I use PbWorks for Education because it's free and encourages student-centered learning. It made blended learning interactive, collaborative and engaging. Wiki is a piece of server software that allows users to freely create and edit Web page content using any Web browser. Wiki supports hyperlinks and has a simple text syntax for creating new pages and crosslinks between internal pages on the fly.  Wikis I have created for teaching and disseiminating research findings  http://y1englishlanguageskills.pbworks.com/w/page/23218229/FrontPage http://researchseminars.pbworks.com/w/page/22896926/FrontPage http://mysocialt-eljourney.blogspot.com/2011/03/sharing-good-practice.html
Social Bookmarking
Google Bookmark is the Social bookmarking tool I use to organize, store, manage and search for bookmarks of resources online. It is an online service that lets me save my favorite sites and attach labels and annotations. Unlike the bookmark feature from my browser, bookmarks are stored securely online, so they are accessible even if I'm using other computers. Unlike file sharing, the resources themselves aren't shared, merely bookmarks that reference them. I used Google Note initially but since it stopped accepting new members, it's use has been limited to annotations and labels - no more hyperlinks to the resources so I migrated to Google Bookmark. I have even imported my list from delicious. I share my bookmarks with my colleagues on the t-eL course
Social Networking
I use Twitter - a social networking and microblogging service to get answers to questions, "Can I create mindmaps in Google?" by sending short text messages 140 characters in length, called "tweets", to my friends, or "followers." I never thought I would be tweeting away like the birds in my garden with like-mined people about professional matters. Now I feel it is an efficient way of getting answers to your questions quickly. I learned how to tweet by tweeting in twitter with team A Tweet me@barbaratweet75 I use Skype with my family scattered all over the world and we share holiday videos, have chats and compare gardens. Once we had music in the background - birds tweeting, water in the pond murmuring as I was skyping in the garden! I also use Skype to support students on work placements and the video facility works well with ensuring the being in the same room effect.
Aggregators
Being loyal to Google, I choose Google Reader as the tool that allows me to grab the RSS feeds from various sites and display them for me to read and use. RSS (Rich Site Summary) is a format for delivering regularly changing web content. Many news-related sites, weblogs and other online publishers syndicate their content as an RSS Feed to whoever wants it. My aggregator grabs the Education section of the weekly Guardian newspaper, Technology-enahnced Learning and Job vacancies
Content sharing
I use Google Docs to collaborate (similar to wikis)https://docs.google.com/?pli=1#home  
Polling tools
Used for evaluating my teaching and training sessions, conferences, workshops, seminars.Survey Monkey, Google Forms, Snap  
Screen Capture