ITS Department Catalog of existing Streaming Services
by
Kevin Huffaker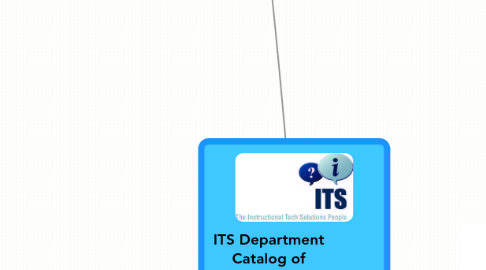 0.0
stars -
0
reviews range from
0
to
5
ITS Department Catalog of existing Streaming Services
This is a map catalog/map of streaming services within ITS, possible streaming solutions, and additional resources that fall into the picture.
Provided by Rori
TV Studios
A/V Fiber Network, ATT, Centennial TT, Evans Auditorium, LBJ Ballroom, LBJTT, Stadium Press Box, Strahan Coliseum
CH. 17/19, HaiVision videofurnace
Photography
Faculty Project Lab
"Request Streaming Services"
Lecture Capture - CamRelay
R&D
Instructional Design
Instructional Design
Creative Design
Stream LIVE Feed
Telephone VoIP/SIP
Cisco/Tandberg/Codian MCU, H.323 Desktop ConferenceMe
Desktop Video Conferencing
Right now we do not have a solution for this.
Teaching Theaters
The Teaching Theaters currently have a Digital Rapids portable streaming device w/ Canon XH A1S HDV video camera. The unit can stream to up to 5 users at one time. (addt'l users are possible but you then risk disruption or low quality).  The device can also archive recordings on its built-in hard drive.   Goal is to integrate on-site streaming and archival services in Fall 2011.  This service will be specific to theater events only. RN 3/2011
Digital Rapids
Sonic Foundry/Mediasite
Quick 2 Minute Introduction to Mediasite
Customer Testimonials
"Why Choose Mediasite?"
Video Links and examples, Closed Caption Payer Example, High Quality Medical Class Audio/Video/Slides Player Example:, Big Bend Community College Webcast Example: "Getting the Buy-in and Budget to Launch Hybrid Courses", Can Mediasite webcasting be used for Distance Education and to Increase Enrollment? ASU College of Engineering Webcast Example:, Past Mediasite Webcasts, Embedded Mediasite Player in webpage: (Real Examples), Educomm2010, Orchestra Revolution, Algonquincollege/Presidents Breakfast, Embedded Mediasite Catalog in webpage: (Real Examples), Webcast.otn.ca, land/wildlife/hunt/deer/vidcast, Villanova.edu, Business School Using Mediasite, University of Michigan Ross School of Business Mediasite Overview & public Mediasite Catalog:, Michigan Ross Business School Lecture Capture, Texas Tech Rawls College of Business Mediasite Public Catalogs:, Unsecured catalogue for RCOBA public events, Texas Tech Rawls College of Business Mediasite Private Catalogs Titles (for reference only), Video Testimonial on Mediasite at UC Irvine School of Business, The University of Chicago - Booth Graduate School of Business public Mediasite Catalog, Video Conferencing, Working with Polycom Video Conferencing System, Mediasite Example of Webcast using Polycom Videoconference (Overview of the Sloan C Virtual Pass Conference), Lecture Capture, 5 Secrets to Funding Lecture Capture, Understanding Lecture Capture - University of Toledo (on-demand webinar), Event Coverage System, Mediasite Recorder Control Center for version 5.4
Mediasite User Group Community Website
Extra Notes:
Cisco
Cisco Content Management PDF
Article - Campus Technology "Cisco Unveils New Video Collaboration and Communication Tools"
Case Study - UC Berkeley California.pdf
Case Study - Arizona State.pdf
Kaltura
Current Customers
Product Tour Video
Hosted vs. Free Community Supported
ShareStream
ShareStream is a rich media management and delivery platform that allows educational institutions to store, manage, and preserve all of their licensed and institutionally-generated rich media content (video, audio, lectures, podcasts, images, etc.) in a centralized system and seamlessly deliver content globally into a variety of learning management systems (including Blackboard, Sakai, and eCollege,) running across university networks, while controlling content dissemination via higher-education-specific digital rights management.  
"Teaching and Learning"
"Modular and Agnostic"
Article - Campus Technology: "ShareStream 5 Gets Unlimited File Uploads"
Flumotion
What is Flumotion? Flumotion is a streaming media server created with the backing of Fluendo. It features intuitive graphical administration tools, making the task of setting up and manipulating audio and video streams easy for even novice system administrators. Flumotion is released under the GPL.
Screen Shots
Demo Site
Free Download
"ShareStream Partners"
Wowza
Pricing
Customers
Case Studies
Testimonials
Live Streaming Demos
Landro Player Analyzer
The new Landro Play Analyzer 2010 builds upon a decade of Landro products to give you unmatched power and simplicity in studying video. Watch standard or high-defintion video, in regular or slow motion, tagging the sections you need more quickly and intuitively than ever before. Quickly locate just the video you need, and let the learning take off! The newest version of Landro supports more cameras, more file types, and more sources of video than ever before, while giving you more features and more ease of use. Landro 2010 leaves not just our competition, but even our previous Landro products, in the dust!
"Introducing Landro" video
"Landro and Speech Pathology"
Enterprise Edition Documentation
Brightcove
Editions & Pricing
"HTML5 - Facts & Fiction"
IIS Media Services IIS Media Services, an integrated HTTP-based media delivery platform, delivers true HD (720p+) live and on-demand streaming, DVR functionality, and real-time analytics support to computers, TVs, and mobile devices. By offering a complete multi-format media delivery platform and a proven Web server, highly immersive websites can now be managed from a single Web platform: IIS. Install IIS Media Services 4.0 now...  
Overview
"Using Delegated Administration" video
Product Overview
System Architecture
Helix DNA Demo Videos
Helix DNA Licenses
KIT Platform Overview Complete, End-to-end Solution for Cloud-based Video Delivery KIT digital's industry-leading KIT Platform of cloud-based video asset management solutions helps more than 2,000 organizations of all types and sizes across 50 countries to produce, manage, and deliver their live and on-demand socially-enabled video assets from any source to any screen. These organizations rely on KIT digital to deliver professional and Hollywood-quality video content to the favorite screens of today (PC, TV, mobile and tablet devices), to capture and stream over 50,000 live events a year, and to make video, audio and rich media presentations available on demand. Our KIT Platform's modular approach enables you to take advantage of the solution set that is perfect for your business. Select from one of the software solutions below to learn more about its features and functionality.
KIT Enterprise Platform
Current Client List
Twistage is the leader in carrier-grade digital media management, delivering web, mobile, and connected TV solutions including Online Video Platform (OVP), audio and image management, cloud-based transcoding, workflow automation, and more. Already the platform of choice for many leading enterprises and digital publishers, Twistage enables organizations to drive return on existing investment and accelerate their time to market.
Product Page
System Architecture
Streaming Server Requirements
Streaming Server Requirements Preface: There should be two separate streaming servers if not solutions: 1. Marketing Materials Server (public access) o GATO website integration § Departments § Student Organizations (Chartered) o University Marketing o President's Office o Alumni Relations 2. Academic Use Streaming Server (restricted access by roster, group, individual, and/or time (preferred) or by Texas State ID and password) o Student Videos (as assigned by instructor for coursework) o 3rd Party videos with permission obtained from publisher/copyright owner o Texas State-produced instructional materials distributed to class participants o Alkek Library E-reserves Requirements 1. Compatibility · Previously encoded content (currently in QuickTime format) should be supported in the new environment. · Ability to deliver media in a variety of popular formats including support for popular mobile devices. 2. Automatic Encoding · Stand-alone, site-licensed application and/or web-based interface that compresses the users media based on a single or multi-option preset list (as determined by ITS). 3. Authoring Capabilities · Users can edit content; shorten clips, add chapter markers, etc. for easy viewing. · Capability to add closed captioning (or at the very least upload or link to a transcript of the media (per ADA standards). 4. Protection of Digital Content · Users must comply with copyright/use policy statement before each new upload (either singularly or in a batch). · Restricted content should be locked down by roster, group, individuals and/or time (preferred) or at the very least by Texas State Net ID and Password · Single sign-on: Links from TRACS to protected content should not require a separate log in each time a media link is accessed. 5. Easy Administration · Account Creation and maintenance of users: automatic or event driven · Digital rights management  
"Third Part Streaming Options"
Provided by Rori
Jeff and Nick have a solution.
ITS HTML5 Video Server
  "Produces an HTLM5 video format which will cross all platforms--mobile, browsers, etc..."   Handles Audio - good! Handles Video, low res and HD - good! Replacing the existing uses of existing Quicktime Server. Content management - perhaps a "look ahead" to vet possible copyright infringement. Hosted on campus, only transcoding is sent outside the walls.   Question: Would the transcoding be inclusive of Closed Captioning?  
"Zen Coder", Zen Coder Features, Zen Coder Pricing
As providers of services which handle some aspect of video/streaming, what does everyone need?  What are the individual needs, what do we have to produce?
CDIS Clinic - Health Professions
In the Health Professions Building the Communication Disorders Clinic uses video recording to monitor live sessions with real patients.  They review these videos with student practitioners and learn from the experience.  This video data is often maintained through the semester per-patient, and is typically viewed from a computer station.  Right now they use a PC-based DVR system running the software called "Aventura."  This system was designed and installed by ITS Classroom Support.   Identified need/problem: Diana Wendel reports their existing analog video surveillance is non‐functional and in need of repair/upgrade.  They have resorted to using stand‐alone handheld mini‐DVD recorders to document the individual clinical sessions. Preliminary cameras original tape.  This system was install on/around 1993/4 Diana Wendel identified their need to record their sessions in a format more ubiquitous for review, editing, and compilation.  Being able to record the sessions in a digital format, MJPEG or MPEG‐4, H.264, would serve this need. Requirements: Record at least 6 simultaneous sessions with high quality audio and video. Allow remote monitoring of live sessions as well as reviewing recorded sessions. Burn recorded sessions to DVD or in a digital format for editing and reproducing. HIPAA - to ensure privacy and security of individuals' health and medical information, and to standardize the handling of that information and to enforce those standards. A system that can be operated and maintained by graduate students & their clinical supervisors – moderate PC skills. Proposed solution: Eliminate existing analog system and replace with hybrid analog/IP‐based video surveillance system. In consideration for HIPAA privacy requirements this system would be intra‐net as opposed to open access to the existing university network if the system was to take advantage of the IP functionality. A. ‐Hybrid – Use existing coaxial cabling to transmit video signal, install new rack‐mounted H.264 DVR, use existing audio to cameras. B. IP server/console
McCoy Business "Sales Lab"
Dr. Vicki West has technology requirements that map to a professional course certification organization. Dr. West's Student in Free Enterprise Program are required to practice their marketing and sales techniques in teams.  This involves conducting mock sales, where a student plays the client, and the other plays the sales agent.  These are recorded and reviewed immediately.  In some cases the review of these sessions would be conducted later and notated, then shared with the students.  
Project Requirements by Vicki West
Sales Lab "Executive Summary"
Educational Counseling Center
Alkek Library
The Alkek Library has various streaming components.
"Streaming Media at the Alkek Library"
Navigating HTML5 Video
"HTML5 - Facts & Fiction.pdf"