Wikipedia Fact Sheet
by
Peter Baumgartner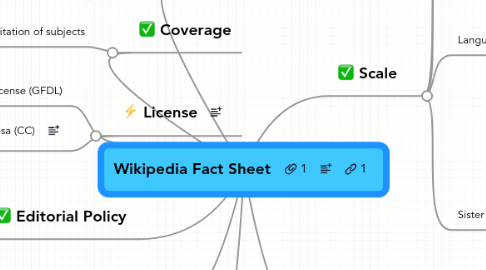 5.0
stars -
1
reviews range from
0
to
5
Rationale of this mind map (August 6, 2008) I'm writing on an article about modes of collaborative knowledge production in internet encyclopedias. This mind map is my first try using MindMeister for organizing my ideas about the structure of the investigation for each internet encyclopedia. At the moment I am looking into the following projects (alphabetically sorted) Austria Forum (AF) Citizendium (CZ) Digital Universe (DU) Encyclopedia Britannica (EB) Encyclopedia of Life (EoL) Scholarpedia (SP) Wikinfo (WI) Wikipedia (WP)
Founded
Date
January 15, 2001
By
Jimmy Wales
Scale
Rank (Alexa)
8
Size
Entries, 33 Mio.
Pages, 73 Mio.
Edits, 640 Mio.
Collaborators, Users, 39 Mio, Admins, 6446
Images, 7 Mio.
Languages
259
Sister Projects
Wiktionary
Wikibooks
Wikiversity
Wikinews
Wikispecies
Commons
Wikisource
Wikiquote
Meta-Wiki
License
There seems to be a conflict between GFDL and CC which should be solved in the future (reference?) What is the conflict? Where are examples of CC Licnese? Look up for references about license policy.
Gnu Free Documentation License (GFDL)
Creative Commons by-sa (CC)
Further investigation necessary: Rationale? Reason for change?
Coverage
No limitation of subjects
Business Model
Donation, Fundraising
Editorial Policy
Neutral Point of View (NPOV)
No Original Research (NOR)
Verifiability
Free license
Editing without registering
Quality Assurance
Governance
(still to be researched)