9-WEEK PLANNER THAT MADE ME SUCCESSFUL
by Katerina Lengold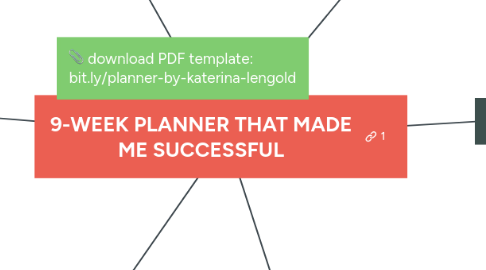 1. HABITS
1.1. ADVANTAGES
1.1.1. have cumulative effect
1.1.2. form automatic behavior
1.2. TIPS
1.2.1. keep them very simple in the beginning
1.2.1.1. don't commit to an hour workout in the gym
1.2.1.2. start with 5 pushups and 5 squats when you wake up
1.2.1.3. when the behavior "sticks", you can build up the complexity
1.2.2. never skip twice
1.2.2.1. repetitive action rewires our brain, so sticking to the habit become easier
1.2.2.2. hen you skip a couple of days, the brain rewires back, and you lose your traction
2. DAILY PLANNING
2.1. PRIORITIZE
2.1.1. tasks in our todo list are not equally important
2.1.2. some of them contribute to your goals, and some you can ignore without any consequences
2.2. FIRST THINGS FIRST
2.2.1. start my day dedicating the first 3-4 hours before lunch to high-priority tasks
2.2.2. after lunch I focus on more routine tasks and schedule meetings with partners and collegues
2.3. POMODORO
2.3.1. break my day into 30 minute intervals
2.3.1.1. 25 min uniterrupted work
2.3.1.2. 5 min mandatory break
3. JOURNAL
3.1. JOURNALING MAKES YOU HAPPIER
3.1.1. our happiness is determined by our interpretation of reality, not reality itself
3.1.2. it's always up to you to decide what to pay attention to and what to ignore
3.2. 2-3 MINUTES
3.2.1. What was my biggest achievement today?
3.2.2. What am I grateful for?
4. download PDF template: bit.ly/planner-by-katerina-lengold
5. MY BACKGROUND
5.1. BY THE AGE OF 23
5.1.1. five degrees
5.1.2. started a company
5.1.3. sold it to Califormia satellite company
5.1.4. became the youngest executive in the aerospace industry
6. MY PLANNER
6.1. Tried dozens of planning systems, and none of them worked
6.2. Planner is based on from my own experience, findings in neuroscience and advice from other successful entrepreneurs and executives.
6.3. Success is not about super-intelligence and 80-hour workweek.
6.3.1. picking the right goals
6.3.2. minimizing distractions
6.3.3. getting things done
7. SPRINT GOALS
7.1. long-term goals don't work: 80% of New Year resolutions fail by February
7.2. "pressure of a deadline" makes it easier to stay motivated and fight procrastination.
7.3. 9-week sprints help keep the deadline in sight, but still give enough time to get something meaningful done.
7.4. HOW IT WORKS
7.4.1. commit to 3 goals for the sprint
7.4.1.1. Pick goals that have the biggest impact (20% of the effort yields 80% of the result)
7.4.1.1.1. Why do I want to achieve each goal?
7.4.1.1.2. How does it align with my values?
7.4.1.1.3. What is it going to feel like in 9 weeks when I get it done?
7.4.2. break each goal into three milestones
7.4.3. come up with a reward for yourself
7.4.3.1. Something to look forward to when things get rough (weekend getaway with friends?)