FIRST
by Sofia Can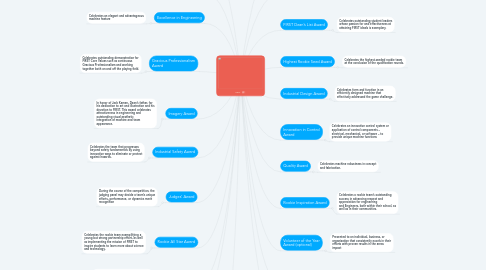 1. Engineering Inspiration Award
1.1. Celebrates outstanding success in advancing respect and appreciation for engineering within a team's school and community.
1.1.1. -
1.1.2. -
1.1.3. -
1.1.4. -
2. Entrepreneurship Award
2.1. Celebrates the entrepreneurial spirit by recognizing a team that has developed the framework for a comprehensive business plan to scope, manage, and achieve team objectives.
3. Excellence in Engineering
3.1. Celebrates an elegant and advantageous machine feature
4. Gracious Professionalism Award
4.1. Celebrates outstanding demonstration for FIRST Core Values such as continuous Gracious Professionalism and working together both on and off the playing field.
5. Imagery Award
5.1. In honor of Jack Kamen, Dean's father, for his dedication to art and illustration and his devotion to FIRST. This award celebrates attractiveness in engineering and outstanding visual aesthetic integration of machine and team appearance.
6. Industrial Safety Award
6.1. Celebrates the team that progresses beyond safety fundamentals by using innovative ways to eliminate or protect against hazards.
7. Judges' Award
7.1. During the course of the competition, the judging panel may decide a team's unique efforts, performance, or dynamics merit recognition
8. Rookie All Star Award
8.1. Celebrates the rookie team exemplifying a young but strong partnership effort, as well as implementing the mission of FIRST to inspire students to learn more about science and technology.
9. Team Spirit Award
9.1. Celebrates extraordinary enthusiasm and spirit through exceptional partnership and teamwork furthering the objectives of FIRST.
10. Woodie Flowers Award
10.1. Presented to an outstanding Mentor in the robotics competition who best leads, inspires, and empowers their team using excellent communication skills. Note: WFA will only be presented at one FIRST Championship.
11. Winner
11.1. Celebrates the alliance that wins the Final Match of the Competition.
12. Chairman's Award
12.1. The most prestigious award at FIRST, it honors the team that best represents a model for other teams to emulate and best embodies the purpose andgoals of FIRST
13. Creativity Award
13.1. Celebrates creativity in design, use of component, or strategy of play.
14. FIRST Dean's List Award
14.1. Celebrates outstanding student leaders whose passion for and effectiveness at attaining FIRST ideals is exemplary.
15. Highest Rookie Seed Award
15.1. Celebrates the highest-seeded rookie team at the conclusion of the qualification rounds.
16. Industrial Design Award
16.1. Celebrates form and function in an efficiently designed machine that effectively addressed the game challenge.
17. Rookie Inspiration Award
17.1. Celebrates a rookie team's outstanding success in advancing respect and appreciation for engineering and Engineers, both within their school, as well as in their communities.
18. Volunteer of the Year Award (optional)
18.1. Presented to an individual, business, or organization that consistently excels in their efforts with proven results in the areas impact
19. Finalist
19.1. Celebrates the alliance that makes it to the Final Match of the Competition.
20. Quality Award
20.1. Celebrates machine robustness in concept and fabrication.
21. Innovation in Control Award
21.1. Celebrates an innovative control system or application of control components – electrical, mechanical, or software – to provide unique machine functions
22. Label
22.1. Regional Event
22.2. District Event
22.3. District Championship
22.4. FIRST Championship Division
22.5. FIRST Championship