APPILICATION SOFTWARE
by naznazmi_ naznazmi57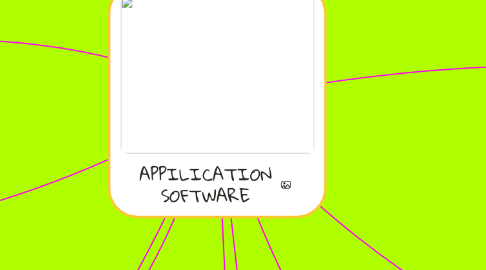 1. EXAMPLE
1.1. Proprietary Software
1.1.1. MICROSOFT OFFICE WORD
1.1.2. PAGES ( APPLE )
1.2. Open Source Software
1.2.1. OPENOFFICE.ORG WRITER
1.2.2. KWORD
2. EXAMPLe
2.1. Proprietary Software
2.1.1. MICROSOFT OFFICE ECXEL
2.1.2. NUMBERS ( APPLE )
2.2. Open Source Software
2.2.1. OPEN OFFICE.ORG CALC
2.2.2. KCELLS
3. EXAMPLE
3.1. Proprietary Software
3.1.1. MICROSOFT OFFICE ACCESS
3.1.2. ORACLE DB
3.2. Open Source Software
3.2.1. OPENOFFICE.ORG BASE
3.2.2. MARIADB
4. CONSISTS OF PROGRAMS DESIGNED TO MAKE USERS MORE PRODUCTIVE AND / OR ASSIST WITH PERSONAL TASKS.
5. DEFINITION
6. TO MAKE BUSINESS ACTIVITIES MORE EFFICENTS
7. TO ASSIST WITH GRAPHICS AND MULTIMEDIA PROJECTS
8. TO SUPPORT HOME , PERSONAL AND EDUCATION TASKS
9. TO FACILITATE COMMUNICATION
10. WEB BROWSER SOFTWARE
11. EXAMPLE
11.1. Proprietary Software
11.1.1. INTERNER EXPLORER
11.1.2. SAFARI
11.2. Open Source Software
11.2.1. MOZILLA FIREFOX
11.2.2. CHROMIUM
12. WORD PROCESSING SOFTWARE
13. SPREADSHEET SOFTWARE
14. ALLOWS USERS TO ORGANIZE DATA IN ROWS AND COLUMNS AND PERFORM CALCULATIONS
15. ALLOWS USER TO ACCESS AND VIEW WEB PAGES OR ACCESS WEB 2.0 PROGRAM
16. DATABASE SOFTWARE
17. COLLECTION OF DATA ORGANIZED IN A MANNER THAT ALLOWS ACCESS, RERIEVAL ,AND USE OF THAT DATA
18. PRESENTATION SOFTWARE
19. ALLOWS USERS TO CREATE VISUAL AIDS FOR PRESENTATION TO COMMUNICATE IDEAS, MESSAGES, AND OTHER INFORMATION TO A GROUP.
20. EXAMPLE
20.1. Proprietary Software
20.1.1. MICROSOFT OFFICE POWERPOINT
20.1.2. KEYNOTE (APPLE )
20.2. Open Source Software
20.2.1. OPENOFFICE.ORG IMPRESS
20.2.2. SHOWCASE
21. ALLOWS USERS TO CREATE AND MANIPULATE DUCUMENT