Indie VS. Mainstream
by ciara yelland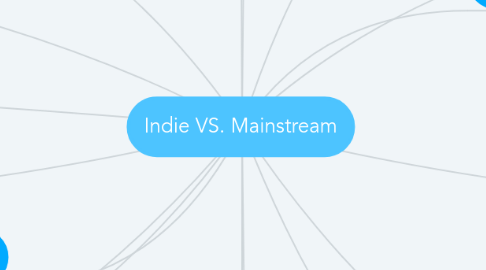 1. Lanterns on the Lake formed in 2007 and started off with three members, they are originally from Newcastle UK, they independently released two EPs and one single before signed by Bella Union in 2010.
2. Their website offers all there is you need to know about the band and their history, their new and old albums and their top singles, photographs of the members and an online shop. Their music can be purchased online on their website, through online streaming websites and apps such as Youtube, Spotify, Deezer, TuneIn and Itunes. Their CDs can also be bought in stores such as HMV and online on Amazon and Ebay.
3. Merchandise/ancillary products for the band: Perfume, t-shirts, documentary film, autobiography, jewellery and accessories. Which can be purchased on their online website and Amazon.
4. Lanterns on the Lake is owned by Bella Union, a London based record label founded in 1997 by Simon Raymonde & Robin Guthrie, their distributors are PIAS. Simon Raymonde has said that as a company they 'only hire artists who they like as people'.
5. Merchandise/ancillary products for the band: On the Lanterns on the Lake's website they have an online store available where fans can purchase posters/prints, vinyl records, tote bags, t-shirts, CDs and lyrical decorated posters and artwork.
6. Lanterns on the Lake's music can be purchased through their personal website, online streaming websites such as Soundcloud, Youtube, Deezer, Spotify, TuneIn and Itunes.
7. One Direction were formed by Simon Cowell, owner and producer of Britain's Got Talent which is where they were discovered. After the show they then signed a £2 million contract with Syco Entertainments, founded by Simon Cowell. The company also operates as a talent agency, film and television production company, as well as a music publishing. Columbia, whose parent company is Sony, which has a 50/50 partnership with Syco entertainment, also part owns One Direction. They have offices based in LA and London.
7.1. One Direction were formed on X-Factor after applying as individual solo artists, Simon Cowell, X-factor founder and celebrity guest judge Nichole Sherzinger decided to collaborate the five boys, turning them into the worldwide famous pop group they are today and were finalists in the 2010 show.
8. One direction's primary target audience is young females from the ages of 10-21, as their marketing primarily focuses on producing products that females would enjoy such as their own perfume, dolls and their own accessories. Their secondary target audience could be older females from ages 40-50 as they are commonly played on the radio and as a group are attractive to the eye and women with children interested in them will share a similar interest.
9. Lanterns on the Lake's primary target audience is males aged 15-25, targeting a more underground audience and experience with producing vintage products such as vinyl and prints. Their secondary target audience could be females aged 15-25 as two of the members are females which could inspire other females to be confident in perusing their dreams also.
10. Bella Union specialise in genres such as Indie rock, Alternative rock, Folk, Experimental, Psychedelic. As an independent label they chose to sign independent and less mainstream genres to coincide with their ideologies. They also have over 50 artists signed including Arc Iris and BC Camplight.
11. Syco entertainment typically sign artists who have won or been finalists in either Britain's Got Talent or X-factor as Simon Cowell is founder of Syco entertainment and both popular TV shows. The genre of music is mostly Pop and other genres such as Indie, soft rock, soul, and sometimes artists who perform gospel.
12. One Direction - Mainstream band
13. Lanterns on the Lake - Indie
14. Advantages of being singed to an independent label:
14.1. They respect for your music, Indie labels usually have the freedom to work with whatever other artists they wish and are in control in decision making for their careers.
14.2. Closer working relationships, because indie labels have smaller staff and employees, it's easier for musicians to develop a close relationship with the people working on their record which also improves communication.
14.3. Artist-friendly deals, some larger indie labels have fairly complex contracts, but smaller indies often do business on little more than a handshake and a profit split agreement. Most indies don't lock their artists into long-term, multi-album contracts, so the artists are free to move on whenever they want.
15. Disadvantages of being singed to an independent label:
15.1. Disorganization, the informal nature of operations at many smaller indie labels means some elements can get confusing if artists don't have any previous experience with labels. It may be hard to figure out processes that aren't quite formalized, like accounting etc.
15.2. Money, some indie labels are financially stable, most small operations are just trying to stay break even. Meaning they usually don't have the funds to majorly promote the artists, large recording budgets and tour support.
15.3. Size, the size of indie labels have their upside in terms of closer and easier accessible relationships. But a downside is they don't have the purchasing power like major labels, and with a smaller roster, they have fewer contacts with the press and PR.
16. Advantages of being signed to a mainstream label:
16.1. Money, investment is vital for a musical career, a mainstream label will advance money to record an single/album and will only ask for that money to be paid back if the record is successful.
16.2. Expertise, the label will provide expert advise on how to make your single/album successful and raise publicity through campaigns and PR relations. The label will also cover everything necessary for making your single/album successful such as artwork dimensions and specifications with professional graphic designers on hand.
16.3. Connections, the bigger the label the bigger industry connections they have, meaning you're more likely to become a success as the label can provide the correct people to get you out into the public eye.
17. Disadvantages of being signed with a mainstream label
17.1. Finance, the artists receive a smaller percentage of the profits made, as the label take a big cut to keep the artist employed.
17.2. Freedom, the artists have limited freedom with writing and producing their songs as the label will provide songs which they think suit the artists and can make them as much profit possible. They also have to collaborate with other artists signed by the label to further promote themselves.