Sophomore Portfolio
by
Savanna Roark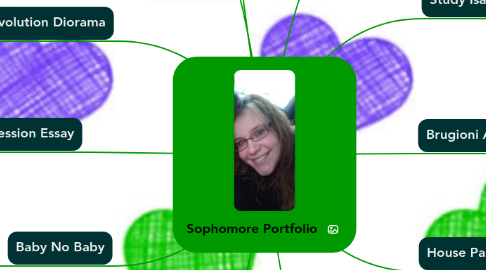 0.0
stars -
0
reviews range from
0
to
5
Sophomore Portfolio
Weirzbicki's Success
Standards
  10.6.1 Identify and correctly use clauses, both main and subordinate; phrases, including gerund, infinitive, and participle; and the mechanics of punctuation, such as semicolons, colons, ellipses, and hyphens 10.6.2 Demonstrate an understanding of sentence construction, including parallel structure, subordination, and the proper placement of modifiers, and proper Englich usage, including the use of consistent verb tenses. 10.6.3 Produce legible work that shows accurate spelling and correct use of the conventions of punctuation and capitilization.  
Reflection
Ever since I began success in Weirzbicki's, I have learned to realize that I can constructed well organized sentences and use parallel structure. On a Monday in April, our class had to write three different sentences using the word, "school", in each sentence. The sentences had to begin with different letters, contain 6 words, and no usage personal pronouns. The next day, we had to write the same type of sentences. However, we had to use the word, "dog", and the sentences had to have seven words. Each day for a week, we highered our word count and used a different word. At the end of the week, we had 12 words all together. She taught us parallel structure and how we could use prepositional phrases.    
Artifact
Oppression Essay
Standard 10.5.9
Research Application: Write or deliver a research report that has been developed using a systematic research process (defines the topic, gathers information, determines credibility, reports findings) and that: • uses information from a variety of sources (books, technology, multimedia), distinguishes between primary and secondary documents, and documents sources independently by using a consistent format for citations. • synthesizes information gathered from a variety of sources, including technology and one's own research, and evaluates information for its relevance to the research questions. • demonstrates that information that has been gathered has been summarized, that the topic has been refined through this process, and that conclusions have been drawn from synthesizing information. • demonstrates that sources have been evaluated for accuracy, bias, and credibility. • organizes information by classifying, categorizing, and sequencing, and demonstrates the distinction between one's own ideas from the ideas of others, and includes a bibliography (Works Cited).  
Reflection
  I have learned to compose a well organized research paper that defines the topic, gathers information, and determines credibility. This essay demonstrates what I learned about the oppressions in Iran. In the begining of the project, groups had to find opression information from different resources about their given country. The teachers divided all the work that had to be done by a due date. If certain work was not done, we could not move on. After completing all the stations that were needed to move on, the class had time to contruct their research paper. After completing our final draft and turning it into turnitin.com, we had to organize our essays into a  webpage. I have mastered Standard 10.5.9 because I wrote a research report that uses information from a variety of sources, a consistent format for citations, summarizes information, sources that are accurate and have credibility, and includes a bibliography. Because I know how to construct an exceptable research paper, I can conduct other essays with my knowledge.
Essay
House Painting
Standards
  Standard 10.2.5 Make reasonable statements and draw conclusions about a text, supporting them with accurate examples. Standard 10.2.1 Analyze the structure and format of various informational documents and explain how authors use the features to achieve their purposes. Standard 10.3.9 Explain how voice and the choice of a narrator affect characterization and the tone, plot, and credibility of a text. Standard 10.3.13 Explain how voice, persona, and the choice of speaker (narrator) affect the mood, tone, and meaning of text. Standard 10.7.1 Summarize a speaker's purpose and point of view and ask questions concerning the speaker's content, delivery, and attitude toward the subject.  
Reflection
House Painting was an assignment in the literature book. Our class had to read a story and answer margin questions. The reason I included this assignment was to show how I imroved over last year. For all of the questions, I restated the questions, used examples, and ellaborated.
Artifact
Oppression Webpage
Standards 10.2.3 and 10.4.9
  10.2.3 Demonstrate use of sophisticated technology by following technical directions.   10.4.9 Use a computer to design and publish documents by using advanced publishing software and graphic programs.  
Reflection
I have learned to use directions and Wix.com to create a successful webpage. In the future, school related or not, I can create a webpage on my own. After writing the Opression Essay, our class had to turn the essays into a webpage. The teachers gave us a packet full of directions on how to use wix. First, had to create an account. Then we went through the directions, playing around with the website before we started to design our final website. Our class had approximately 1-2 weeks to finish our webpage. Because NEW TECH is project base, my group had the same country, however, we had different types of opressions. After finishing our individual webpages and being graded, our group came together to make one whole webpage to present. The webpage is proof that I mastered the Standards because I created a website using directions as stated in standard 10.2.3 and used a computer to design and publish with a graphic program; wix.com.
Brugioni Agenda
Standards
10.6.1 Identify and correctly use clauses, both main and subordinate; phrases, including gerund, infinitive, and participle; and the mechanics of punctuation, such as semicolons, colons, ellipses, and hyphens 10.6.2 Demonstrate an understanding of sentence construction, including parallel structure, subordination, and the proper placement of modifiers, and proper Englich usage, including the use of consistent verb tenses. 10.6.3 Produce legible work that shows accurate spelling and correct use of the conventions of punctuation and capitilization.
Reflection
Ever since I have had this class, I am getting more into the habit of restating the question and becoming more familiar of what role words play in a sentence. Everyday in Brugioni's success time, we start the hour off with warm-ups. Since this class is to help us with the English ECA, our warm-ups consist of sentences with grammatical errors. Every week, we have different types of warm-ups. One week, we will have to fix the sentences, then next, we will have to identify certain words and what they are( adjective, noun, verb, etc.). After completing the warm-up, we are given worksheets to complete. They involve reading, restating the question, and identifying words.  
Agenda
Study Isalnd
Standards
Standard 1 Students use background knowledge to determine the meaning of a word.   Standard 2 Students read all different ranges of texts.   Standard 3 Students read a variety of literature, read, and respond according to appropriete grade level.   Standard 6 Use different forms of sentences and use certain language sentence structure.  
Reflection
In study Island, I have learned all different types of things. From sentence structure to tone and mood. Study Island is a site where teachers create their own room and have different quizzes for you to complete. For English, you have to have an overall 80% or higher for the grade to be counted. These quizes are our practice to pass the ECA. Ever since I began Study Island, I have seen a difference in the way I look at questions and how I read prompts. For the NWEA, I improved and I honestly believe it is because Study Island. I am able to determine what kind of sentences are presented to me and how to focus on what a question is asking  
Artifact
Baby No Baby
Standards
  B.1.21 Understand and explain that the information passed from parents to offspring is transmitted by means of genes which are coded in DNA molecules. B.1.24 Explain that gene mutations can be caused by such things as radiation and chemicals. Understand that when they occur in sex cells, the mutations can be passed on to offspring; if they occur in other cells, they can be passed on to descendant cells only. B.1.28 Illustrate that the sorting and recombination of genes in sexual reproduction results in a great variety of possible gene combinations from the offspring of any two parents. Recognize that genetic variation can occur from such processes as crossing over, jumping genes, and deletion and duplication of genes. B.1.29 Understand that and explain how the actions of genes, patterns of inheritance, and the reproduction of cells and organisms account for the continuity of life, and give examples of how inherited characteristics can be observed at molecular and whole-organism levels – in structure, chemistry, or behavior.  
Reflection
During this project, I have learned how to arrange and explain fully about a pedigree. If anyone was to give me their background genetics information, I could tell them their genotype, phenotype, and their percentage of having a child with a specific trait. For the Baby No Baby project, our class had to make a pedigree and pretend to be genetic counselors. in a tin can, different types of scenerios were laid for each student to chose from blindly. In these scenerios, a student had to create a pedigree and tell the "soon to be parents" their chances of having a child with a certain disease. After having less than a week to prepare our work, students presented their pedigree to one of the two teachers. My pedigree is proof that I mastered the standards because I understand the information that is being passed down to offspring from the parents, and I know how to explain this information.  
Pedigrees
Grade
Industrial Revolution Diorama
Standard 10.7.4
  10.7.4 Use props, visual aids, graphs, and electronic media to enhance the appeal and accuracy of presentations.  
Reflection
For this project, our class had to create a diorama of an invention from the Industrial Revolution. My group built The Flaking Machine. It is the machine for making frosted flakes. In the begining of the project, my group had no idea on how to replicate the invention. We brainstormed and still, we could not think of anything. Two days before it was due, I was at home and I knew I had to do something because I did not want a bad grade. I searched around my house and found foil, a foil tray, glitter tubes, super glue, and Playdoh. I fixed the tray into a box, covered the tubes with foil, and then shaped the foil into a bowel. After I put everything together, I used the playdoh for the wheat. The diorama was a success. I presented nicely and fully, and the teachers said that it looked very nice.
Artifact
I was not able to obtain a photo of the diorama.
*Introduction*
Hello, You may not know me, so I am going to tell you about myself. My name is Savanna Roark and I am a sophomore at Calumet New Tech Highschool. You probably already know that much, but it is a start. I grew up in a family of four with a mom, dad, sister, and brother. One thing I am proud about is the fact that I have no step-siblings, or half. Including the fact that my parents are still married. My family is like the old fashioned families from back in the day. Today, a lot of familes have different dads, moms, and siblings. For the past two years, I have worked at McDonalds. It is a good job, but very fustrating. You have to work really fast and be nice to ignorant, rude people. I receive good pay for the fact I do not have bills; excluding my phone bill. I try to support myself with the money I earn. I like the feeling of being independant. When my parents need to borrow money, I give it to them. They do not like asking, but I do not mind giving it to them. I mean, they have done a lot for me and it is the least I could do. My Aunt Kathy is the one person that raised me. I do have parents, but she actually raised me. When I was younger, I was stuck like glue to her. Throughout the week and weekends, I was always at her house. She packed my lunches and bought me clothes, taking good care of me. I did spend time at my house, but it never felt like home. My aunt made me who I am today, and I thank her for everything she has done for me. Like you will see on my website, my father is my inspiration and hero. He does, at times, get on my nerves, but what father doesn't? When I talk to him, he gives me good advice. My dad did not finish highschool, but he is really smart. I look up to him everyday and I want to make him proud. Now that you have learned a little about me, let's go on to the reason for this letter. The portfolio yoru about to examine is all of my work over the past year. Creating this portfolio was intended to show how I have improved and how I have mastered the Indiana Standards. Throughout the year, I have improved in my writing. Because of the success classes and Study Island, I have improved on constructing my sentences and how to identify certain parts of my sentences. In the beginging of the year, my sentences lacked variety. I need to improve on my vocabulary and how I think. For instance, when our class has to write essays, I have no clue what to write about or where to start. I think if I read more than what I do, I will see improvement. Recently, I was told that I read at an eighth grade level. I disagree with the data, but then I do not because of my vocabulary. I know I need to start reading and I am not going to make excuses for why I am not. I believe I have more potential, but I do not show it. I can do better in my work, I just do not try hard enough and give it my all. In my mind, I feel like I give it my all, but when I really think about it, I am more capable than what I set out to acheive. Over the year, technology has been used excessively. I now know about websites and tools that I did not know existed. These websites and tools can help me in my future projects. My favorite tool and website is Wix. Wix is a website where you can make any type of webpage. I can use this for anything. My best work in my portfolio is the Baby No Baby Project. I hope you like it because I worked really hard by going above and beyond. If you do not mind, I would like to know your opinions on this artifact. Also, please include your veiwpoint about the others and how I can improve. Please do not be afraid of negative feed back. I think it is good because that kind of feed back will help me grow as a learner. Thank you for donating your time to inspect my portfolio.
Conclusion
  Dear Reader,   Once again, thank you for taking the time out of your schedule to view my portfolio. As you saw, I have fair material. Next year, for this project, I plan to be more organized. At the beginning of the week, I thought the project only consisted of the web outline, introduction, and this conclusion. I had only two days to complete my wix web page. I did not have anything else finished, so I knew I had to get myself in gear. I stayed after school for three hours to finish my wix because it was the most easiest for me to complete in a short amount of time. After I finished my web page, I tried to finish my mind map, but I still needed to retrieve my artifacts before I could actually finish. Over the weekend, I wrote my introduction in a good amount of time and completed almost everything. However, it was hard to do so due to my work schedule. Now that everything in done, I feel incomplete. I did like this project because there was a lot to do and I was always busy. I hope next year is just as fun because I will know what to expect. I will keep more track of my grades and assignments than I did this year. I plan to accomplish much more next school year. I really want to increase my vocabulary and my reading level. But the only way for me to do so is to read. I really want to thank you for taking your time to read my portfolio. I thank you because you did not have to do this. I hope you liked my project and I hope you gave both negative and positive feedback.   Thank you, Savanna Roark