أهمية التناصح في الإسلام
by sara almohammad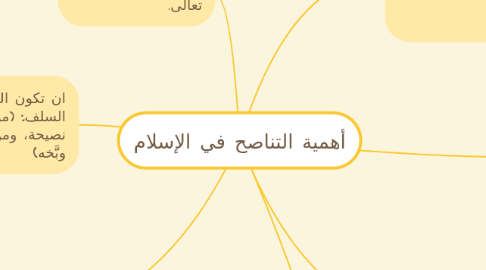 1. Guidelines
1.1. Anything goes!
1.2. No criticism or flaming allowed
1.3. The Wilder The Better
1.4. Quantity is Quality
1.5. Set a Time Limit
2. أن يقصد بها وجه الله تعالى.
3. ان تكون النصيحة في السر، قال بعض السلف: (من وعظ أخاه فيما بينه وبينه، فهي نصيحة، ومن وعظه على رؤوس الناس فإنما وبَّخه)
4. العمل بالنصيحة التي توجهها للناس.
5. الصبر على الأذى في النصيحة.
6. أن لا يقصد التشهير.
7. أن يكون النصح بلطف وأدب ورفق، كما قال النبي صلى الله عليه وسلم: (ما كان الرفق في شيء إلا زانه، وما نزع من شيء إلا شانه).
8. اختيار الوقت المناسب للنصيحة، لأن المنصوح لا يكون في كل وقت مستعداً لقبول النصيحة، فقد يكون مكدراً في نفسه بحزن أو غضب ، أو غير ذلك مما يمنعه من الاستجابة لنصح الناصح.