TIPUS D'OBSERVACIÓ
by Merche Carmona Sanchez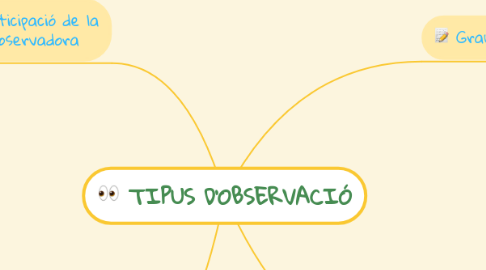 1. Guidelines
1.1. Anything goes!
1.2. No criticism or flaming allowed
1.3. The Wilder The Better
1.4. Quantity is Quality
1.5. Set a Time Limit
2. La participació de la persona observadora
2.1. Participant
2.1.1. La persona observadora s'integra o participa en el grup observat.
2.2. No participant
2.2.1. La persona observadora no participa ni intervé en el grup o en la comunitat observada.
3. Lloc on es realitza
3.1. Vida real
3.1.1. S'observen els fets a l'entorn natural tal com es produeixen.
3.2. Lloc on es realitza
3.2.1. Es prepara l'entorn de forma artificial per a la investigació i observació del fet que es pretén observar.
4. Grau de sistematització
4.1. Estructurada
4.1.1. Delimita i defineix el camp d'observació.
4.1.2. Estableix objectius.
4.1.3. Especifica instruments i registres.
4.2. No estructurada
4.2.1. No parteix de cap pla sistemàtic ni es defineixen les categories.
4.2.2. És una observació simple i lliure.
5. Nombre d'observadors
5.1. Individual
5.1.1. La realitza només una persona.
5.2. Col·lectiva
5.2.1. És realitzada per diferents persones