Mobile Apps
by Morgan Swinford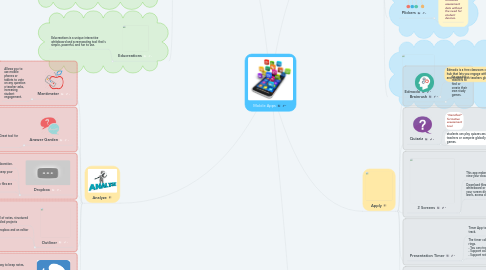 1. Remember
1.1. Polaris Office
1.1.1. A free office service that runs on platforms such as Android, iOS, Windows and macOS. It is capable of editing Microsoft Office file formats and viewing PDF files.
1.2. Google Docs
1.2.1. Create, edit, and collaborate with others on documents from your iPod, iPhone, or iPad with the free Google Docs app.
1.3. Evernote
1.3.1. Let Evernote change the way you organize your personal and professional projects. Dive in: take notes, create to-do lists, and save things you find online into Evernote. It will sync everything between your phone, tablet, and computer automatically.
1.4. Voice Thread
1.4.1. Takes conversation to the next level.
1.4.2. You have the option to talk, type, and draw right on the screen.
1.4.3. Personalize it by adding photos, files, or other voice files.
1.5. Educreations
1.5.1. Educreations is a unique interactive whiteboard and screencasting tool that's simple, powerful, and fun to use.
2. Analyze
2.1. Mentimeter
2.1.1. Allows you to use mobile phones or tablets to vote on any question a teacher asks, increasing student engagement.
2.2. Answer Garden
2.2.1. An App that allows teachers to "plant a question" and then have students send in digital answers. Great tool for brainstorming or polling.
2.3. Dropbox
2.3.1. Space for sharing and collaboration.
2.3.2. Effortlessly create, share, and keep your class on the same page.
2.3.3. Can be accessed anywhere so files are readily available.
2.4. Outliner
2.4.1. Create outlines full of notes, structured lists, tasks, or detailed projects
2.4.2. Can be used as a Dropbox and an editor tool.
2.5. Simplenote
2.5.1. Simplenote is an easy way to keep notes, lists, ideas and more.
2.5.2. Your notes stay in sync with all your devices for free.
2.5.3. Share notes with other users to collaborate on a project together or to access the same list.
3. Evaluate
3.1. Kahoot
3.1.1. A game-based classroom response system, where teachers can create quizzes using internet content.
3.2. Socrative
3.2.1. An app that has engaging exercises and games that engage students using technology.
3.3. ExitTicket
3.3.1. An app that offers teacher the opportunity to poll, test, or survey what students know in quizzes called tickets. It is a tool that is best for gathering simple feedback about what students know and don't know. It is useful for pre-assessment, as well as, an exit ticket.
3.4. Plickers
3.4.1. Allows teachers to collect real-time formative assessment data without the need for student devices.
3.5. Edmodo
3.5.1. Edmodo is a free classroom communication hub that lets you engage with your classes and connect with teachers globally.
4. Apply
4.1. Brainrush
4.1.1. An app for teachers to find or create their own study games.
4.2. Quizziz
4.2.1. "Gamified" formative assessment tool.
4.2.2. students can play quizzes assigned by teachers or compete globally on live games.
4.3. 2 Screens
4.3.1. This app makes it easy to manage and view your documents
4.3.2. Download files, make notes on the whiteboard or presentation slides, stream your screen display to AirPlay, preview your work, access cloud storage.
4.4. Presentation Timer
4.4.1. Timer App to keep students and class on track.
4.4.2. The timer color will change after bell rings. - You can ring bell manually. - Support count-up / count-down mode. - Support rotation.
4.5. Bitsboard Flashcards
4.5.1. Easily create your own study sets or download study sets from teachers and classmates
5. Create
5.1. Drawing Pad
5.1.1. Drawing Pad is a mobile art studio for all ages! Create your own art using photo-realistic crayons, markers, paint brushes, colored pencils, stickers, roller pens and more!
5.2. Doodlecast Pro
5.2.1. Doodlecast Pro is the easiest way to create presentations on your iPad. The app records your voice as you draw to create quick presentations.
5.3. Explain Everything
5.3.1. The best whiteboard and screencasting app for iPad and iPhone.
5.4. Shadow Puppet
5.4.1. Create custom videos that are easy to share! Combine photos and video clips with your voice and favorite song. Draw on screen, add emoji stickers, zoom and pan. Create videos to tell a story, explain an idea, or send a personalized message.