PMB Song Writing Workshop
by
Grant H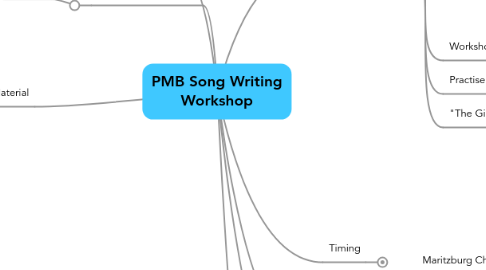 0.0
stars - reviews range from
0
to
5
PMB Song Writing Workshop
Venue
Food
Tuckshop - organised
Lunch, Finger food to support networking/ workshopping
Supper - order at lunchtime
Presentation
Workshops
Gig
People
John vd Laar
http://www.sacredise.com/
Charlotte Hillebrand
http://paperdart.deviantart.com/
Mark Houston
Music & Backing
Drums: Brian Stone
Guitar(s) Mark Houston
Keys: Malcolm H
Tech
Grant Hillebrand
Live Sound
Recording
Support & Admin
HELP!
Workshop Planning
Input Sessions
10h00 - 12h00
Brief Intro Grant H, Who's who, What this is not, Worship leading
"The Anatomy of a Song" John vdL, A lot of this seems to be covered by Charlotte - so maybe it's not necessary (and I'm ok with that). I would probably have looked briefly at the different parts (verse, chorus, bridge, hook, pre-chorus, etc.) John, I think you'd probably cover this better than me! I just thought it needed to be in there somewhere, but I'm not particularly familiar with the structure., Some possible thoughts that could add value here:, Different types of songs (including the varieties from Biblical/Church history), "An Open Letter to Worship Song Writers" - Brian McLaren (http://brianmclaren.net/archives/blog/open-letter-to-worship-songwrite.html, Maybe we make this part of some handed out notes? Are there copyright issues (educational use, etc), No copyright issues on McLaren's leter - he wants it shared as widely as possible., Songwriting as a "theological" exercise., Perhaps I could say little about lyrics here - Charlotte covers that - but pick up on musical techniques in song writing (although this may be covered by Mark H?):, "Horizontal" vs. "Vertical" movements in melodies., Matching music to lyrical movements., Hooks, Choruses, Verses & "other bits" from a musical perspective., Song themes that the Church desperately needs more of (Lament etc. - see open letter [above])
Wordsmithing Charlotte H, Scansion, rythm,, Metre: feet(definitely iambs and probably trochees but not all of them!) Relating the number of feet/syllables per line to the time signature., Form (this might come up elsewhere too?), the 'narrative' or structure of common verse/chorus/bridge forms - I will just mention what John vdL said, I think, rhyme: end rhyme, internal rhyme, vowel rhymes. Misconception that songs/poetry have to rhyme produces some really awkward-sounding stuff, Lyrics, Meaning, Is this where I say that every word should contribute to the theme/message of the song, and if it doesn't, cut it, because you can do something better with that time?, I imagine that the concepts of meaning/theme/purpose will have come up in the previous session. (?), The sound & connotations of words, Purpose, Wordsmithing 101, musesmuse.com > Poem-vs-lyric, google.co.za > Search ? ..., Not sure what else/less I need to say. Maybe some stuff about poetic devices? Vater mein, what do you want from me?, Basically, about 20 minutes of guidelines and thoughts and hooks to hang thoughts on around words. This can't be a full year course, with reading, theory and practise. It's a heads up and 'be aware' of these things - ringing bells and opening minds
Arranging Mark H, What is the song, What works/ doesn't, Styles, Who are you?, What is it for, Intent, Mood/ etc, Backing, Can they play the way the song requires, Recording, See other notes, It'll have to be recorded live, because recording part by part (properly) will take years (metaphorically), Indeed! This will be a one-take multitrack live recording of the performance I can do 14 tracks, so we should be fine here., G: I don't mind recording fragments during the workshop time either
Publishing John vdL, "You've written a song. Now what?", "Why did you write it?" Why do you want others to sing it?", Looking at how to get songs "out there" to be used, registering with CCLI and some other info that might be helpful., G: Could we look at formats - chords, leadsheets, etc?, Publishing, Copyright. Industry "issues". Personal responsibility etc., Recording, Probably best to cover under Mark H's stuff?, GCH: I can talk a little to the producing space, certainly to recording & mixing & a little to mastering, + some of the 'impartial ears' stuff, CCLI, Web, + Social Media
Workshop
13h00 - 15h00
Small 'stations', we can use classrooms as quietish, privat-ish venues, The hall stage will have drums & kbd
take your song, work it in the different dimensions, Work with other delegates as well, Take the time, Have coffee etc on sale too!
Words
Arrangement
This will require more people
Create space for peer input/ review/ workshoping, Use classrooms?, Outside space
Practise
15h30-17h00?
Get it doable in public
This could be a time crunch issue?
Backing band, Mix & match, Some resource people as well, drummer, Brian Stone, bassist, Mark H, KBD, MTH
Soundcrew, MCS Crew
"The Gig"
18h30 - 20h00
(What) do we charge?
Small, informal 'performance' of some of the material
Some thoughts - see the notes under the (=) icon
Recorded, Delegates get a CD of mp3/ stems, Would have to be after the event - real time is too tight
Order a demo level mix, Do a post-production mix
Timing
Start:
10h00? - I would go with this ( says John vdL), Other votes?
14h00?
Gig: 18h30 - 20h00
Useful Tools & Resources
Stuff to help get organised
Music Notation S/W for leadsheets?
MuseScore?, Free, Does the job, including transposing letter based chords, The 'local' manual is enough to get going
I've used Noteworthy - but that's $49
Denemo?
Recording and Mixing
Reaper $40 - fully functional - for mixing music
Audacity - free for simple recording
Songwriting sites
CD Baby
Berklee, Songwriters
http://www.music-composition-studio.com/music-composition-education.html
Dropbox
This is where online versions of mixes will likely go
Or would anyone prefer soundcloud
This is totally up for debate - please add/ suggest!
Date: 16 July
Booked
Material
Workshop Notes
McLaren's article
Other notes/ materials
CCLI Stuff?
CD of tools?
Merchandise