Part IV : Prohibition and Control of Pollution
par Win Nee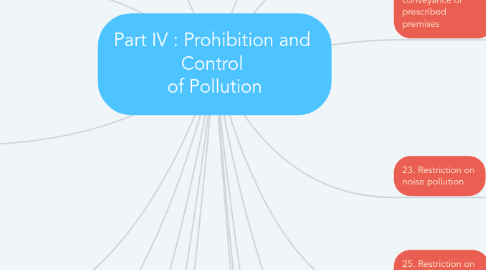 1. a) On the date, makes application for a licence in respect of those prescribed premises
1.1. b) Has made application for the transfer to him of a licence within the prescribed period
2. 18. Prescribed premises to be licenced
2.1. Not apply to a person who
3. 19. Prohibition against causing vehicle, ship or premises to become prescribed conveyance or prescribed premises
3.1. No person shall
3.1.1. a) Carry out any work on any vehicle, ship or premises that would cause them to become a prescribed conveyance or prescribed premises
3.1.2. b) construct on any land any building designed for a purpose that would cause land or building to become prescribed premises
4. 20. Requirement and approval of plans
4.1. Section 19 should be accompanied by
4.1.1. a) plan and specification of proposed work
4.1.2. b) lay-out plan
4.1.3. c) details of the trade, industry or proposed
4.1.4. d) description of waste constituents and characteristics
4.1.5. e) information which DG may require
5. 21. Power to specify conditions of emission, discharge, etc
6. 22. Restriction on pollution of the atmosphere
6.1. 1) No person shall unless licenced, emit or discharge any environmental hazardous substances, pollutants or wastes into the atmosphere
6.2. 2) Person shall be deemed if
6.2.1. a) place any matter in a place where it may be released
6.2.2. b) causes or permits the discharge of odours
6.2.3. c) burns any wastes of trade, process or industry
6.2.4. d) uses any fuel burning equipment not equipped with any device or control equipment required to be fitted
7. 23. Restriction on noise pollution
7.1. No person shall unless licenced emit noise greater in volume, intensity or quality than specified under section 21
8. 24. Restriction on pollution of the soil (or surface or any land)
9. 25. Restriction on pollution of inland waters
10. 27. Prohibition of discharge of oil into Malaysian waters
10.1. Can be charged a fine <RM5000 or to imprisonment <5 or both
11. 28. Special defences
11.1. a) for the purpose of securing the safety of vessel
11.1.1. a) for the purpose of securing the safety of vessel
11.1.2. b) for the purpose of saving human life
11.1.3. c) result of damage to vessel and all steps to prevent, stop or reduce were taken
11.1.4. d) result of leakage and all steps to stop or reduce leakage were taken
12. 29. Prohibition of discharge of wastes into Malaysian waters
12.1. A) Prohibition of open burning
12.1.1. Terminology
12.1.1.1. "open burning"
12.1.1.2. "premises"
12.2. AA) Exclusion from "open burning"
12.3. B) Owner or occupier of premises liable for open burning
12.3.1. Person who will control premises if open burning occurs
12.3.1.1. Owner
12.3.1.2. Occupier
12.4. C) Defence
13. 30. Power to prohibit use of any material or equipment
13.1. A) Power to control use of substance and product and to state environmental labelling
13.1.1. Gazette
13.1.1.1. a) prescribe any substance as an environmentally hazardous substance
13.1.1.2. b) prescribe any product as a prescribed product
13.2. B) Power to specify rules on deposit and rebate schemes
13.3. Gazette
13.3.1. a) Prohibit the use of any materials for any process, trade or industry
13.3.2. b) Prohibit whether by description or by brand name the use of any equipment or industrial plant
14. 31. Power to require owner or occupier to install, operate, repair, etc
14.1. A) Prohibition order, etc
14.2. Requirement
14.2.1. a) install and operate any control equipment or additional control equipment
14.2.2. b) repair, alter or replace any equipment or control equipment
14.2.3. c) erect or increase the height of any chimney
14.2.4. d) measure, take a sample, analyse, record and report any environmentally hazardous substance
14.2.5. e) conduct a study on any environmental risk
14.2.6. f) install, maintain and operate monitoring programme at the expense of the owner or occupier
14.2.7. g) adopt any measure
15. 32. Owner or occupier to maintain and operate equipment
16. 33. Power to prohibit or control licensed persons from discharging, etc of wastes in certain circumstances
16.1. Environmental audit
16.1.1. Purpose
16.1.1.1. a) DG may appoint a qualified person
16.1.1.2. b) DG ma request to appoint a qualified person from amongst the qualified persons listed
17. 34. Exemptions
17.1. A) Report on impact on environmental resulting from prescribed activities
17.2. AA) Prohibition order for prescribed activities
17.3. Part IVA : Control of scheduled wastes
17.3.1. 34B) Prohibition against placing, deposit, etc. of scheduled wastes.
17.3.1.1. No person shall
17.3.1.1.1. a) place, deposit or dispose of, or cause or permit to place, except at prescribed premises
17.3.1.1.2. b) Receives or send, or cause or permit to be received or sent any scheduled wastes
17.3.1.1.3. c) Transit or cause or permit the transit of scheduled wastes