Grosvenor House: Update
par Roger Hart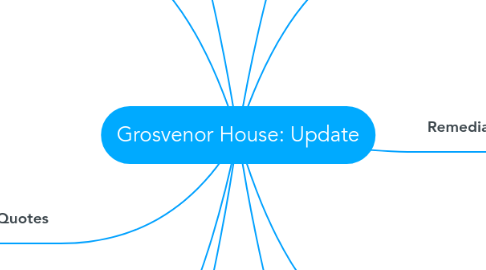 1. Dormer window and sill replacement
1.1. Plastic cladding over existing wood on dormer
1.2. Fitting on 19th and scaffolding down on 23 Dec.
2. Basement
2.1. Flooring and speaker points remediate
2.2. IT cupboard
2.2.1. Rog to mount equipment and sockets
2.3. Plumbing/heating
2.3.1. WC in basement plus sink and tap
2.3.2. Kitchenette sink and Grundfos
2.4. WC extract - if possible route power from WC on SPUR?
3. Oak building
3.1. Items purchased and in garage
3.1.1. Light units LED here, sugest x 3 at roof brace height
3.1.2. Metal clad sockets x 4 and light switch x 1
3.1.3. External IP Socket
3.2. Consumer board and external power and water tap to far rear lawn side of building
3.2.1. Internal routing of water supply and insulation in external type
3.2.2. Routed a hidden as far as possible at ceiling roof eaves height
3.3. Door furniture and lock plus rain guard
3.4. Existing win and earth power tobe capped in loft space
4. Quotes
4.1. Tyrolean render rear of property
4.2. Spring
4.2.1. Driveway block paving
4.2.1.1. Design needed from Andrea for planters etc
4.2.1.2. Drop kerb application completed
4.2.2. Chainlink fence to left existing garage
4.2.3. Treehouse
4.2.4. Front mullion windows
4.2.4.1. Narrow alu units on all 3 floor
4.2.5. Mullion roof repair (torch in new lead drain and repair plaster in sitting room bay)
4.2.6. Master bedroom lintel re-plaster and re-point above externally and seal
5. Sitting room
5.1. New double socket to rear of sofa
5.1.1. Power tails already in double socket requires fitting into skirting
6. Moongate / BBQ area
6.1. Ground lights TBC with Andrea
6.1.1. HOXTON - 6W LED UPLIGHTER | IP67 | 335LM | 4000K | STAINLESS STEEL LINK
6.2. Power to rear of curved seating area
6.2.1. Pull through power for rear of wall at same time
6.3. Remaining motar to grey/black type when moongate remediated
7. Utility
7.1. Wet plinth heater
7.1.1. Cut into kick board
7.2. Worktops sanded back and Osmo Top Oil treated
7.3. AH to seal grout here and in kitchen
7.4. Drilled exit of water pipe leading to Oak Building, neat exit outside under paving
8. Remedial
8.1. Cracks to ensuite above dining room
8.2. Cracks and door will no longer close in family bathroom (above kitchen)
8.3. Damage to bi-fold runner
8.3.1. Door bent slightly, will no longer lock without pressure
8.3.2. Sealing rubber detached from bottom of kitchen door
8.4. Lights in utility: at entrance; external light switch (2 way). at Bathroom 3 way to control lights in utility, lights in bathroom, external flood light
8.4.1. Assume that 3rd switch in kitchen controls corner external light?
9. Kitchen
9.1. Control switch for lantern window plus conduit for cable
9.2. Extractor fan duct to exit at flat roof
9.3. Tling of outside area in Spring 2020
10. Outside general
10.1. Power connections for garden outside kitchen
10.2. Garage slabs to be pointed and clean stone added
10.3. Clean stone and terran to parking area to reduce mud
10.4. Paving (existing) brush in sharp sand when dry
10.5. Front retaining wall: re-build