Round 5: Feb - April 2021
par Beth Dailey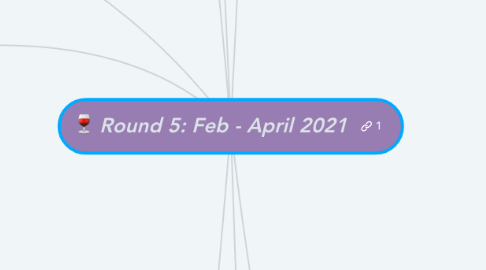 1. 💡Contrast with a Sauvignon Blanc 💡Contrast with a Gruner Veltliner, from Austria very good/outstanding quality
2. 4/29/2021 Primitivo
2.1. 💡Consider contrasting with a US Zinfandel. Wine.com suggested this one. Waypoint Shake Ridge 2016
2.2. 2016 Waypoint Shake Ridge Vineyard Zinfandel
2.3. 2016 Tormaresca Torcicoda Primitivo
2.4. 2018 Parducci Small Lot Zinfandel
2.5. 2018 Biale Founding Farmers Zinfandel
2.6. 2017 Varvaglione 12 e Mezzo Primitivo del Salento
2.7. 2018 Cline Live Oak Vineyards Zinfandel Contra Costa County
3. 3/4/2021 Cabernet Sauvignon from Colchagua Valley, Rapel Valley, Chile
3.1. 💡Compare it to one of your favorite Cabs or to a Cab from Washington State. 💡Compare new world versus old world and find a Bordeaux for comparison 💡 compare it to a Carmenere
3.2. 2018 Lapostolle Cuvee Alexandre Cabernet Sauvignon
3.2.1. Comparison wines
3.2.1.1. Beth - 2013 Haras de Pirque, Reserva
3.2.1.2. Mary - 2018 Clos D' Angel Cellar Selection
3.2.1.3. Karen: 2018 Baron Philippe de Rothschild Escudo Rojo Reserva
4. a Rosé, any appellation, good or very good quality
4.1. Contrast with a Rosé from Provence, from Portugal, from CA. from Spain
5. 3/18/2021 Gewürztraminer, from Alsace in France (very good or outstanding quality.
5.1. Trimbach Gewürztraminer 2016
5.2. Contrast with a Gewurztraminer, from Alsace in France Grand Cru, (optional)
5.2.1. Beth's comparison
5.3. Gustave Lorentz Gewurztraminer Reserve 2016
5.4. 2017 Clos Des Lunes Lune Blanche Grand Vin Blanc Sec Bordeaux
6. 2/25/2021 Grüner Veltliner, from Austria, good quality
6.1. Domane Wachau Federspiel Terrassen Grüner Veltliner 2019
7. 4/1/2021 A red wine from Spain - Mencia
7.1. 💡Consider contracting with a Pinot Noir or Beaujolais 💡Compare it to a Mencia from another producer.
7.2. 2018 Descendientes de Jose Palacios Petalo
7.3. 2015 Vinos de Arganza Flavium Seleccion
7.4. 2011 Vinos de Arganza Encanto
7.5. 2016 Dominio De Tares Cepas Viejas
8. 4/15/2021 A Cava of good quality
8.1. Llopart Reserva Cava Brut 2016
8.2. 💡Consider contrasting with a Cava from a different producer or to one of your favorite sparkling wines COOL 💡Consider trying Franciacorta Brut from Italy. Contadi Castaldi Franciacorta Brut | Wine.com (PS I bought one)
8.3. Gramona Imperial Gran Reserva 2011 Brut
8.4. Vins el Cep Gelida Brut Gran Reserva 2016
8.5. Conquilla Brut DO
8.6. 2016 Bodegues Sumarroca Brut Reserva Cava