AXIS Development
par Joel Smith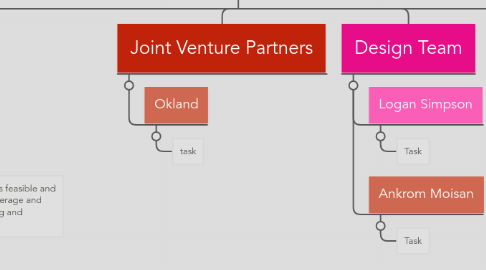 1. Team
1.1. Chris Corroon
1.1.1. Real Estate Marketing and Sales
1.1.2. Ensures architectural design and planning is feasible and marketable. Provides in-house realtor brokerage and marketing. Works with RDA on all marketing and branding
1.2. Joel Smith
1.2.1. Technology Integration and Business Entrepenurial Community Organizer
1.2.2. Globally involves and identifies stakeholders and tech recruits. Develops rural outreach. Creates social media buzz. Provides creative thinking around innovation for real estate development. Sources C-space tech support along with incubator tech.
1.3. John Seastrand
1.3.1. Business Development
1.3.2. Sources debt and equity capital and JV development partners. Oversees financial feasibility of development and capital structure.
1.4. Karl Farnsworth
1.4.1. CFO
1.4.2. Prepares all financial reporting and forecasting. Works with auditors and investors. Manages insurance coverage and lender/investor reporting requirements. Ensures compliance
1.5. Mark Bond
1.5.1. Landowner, Community Outreach and Sustainability
1.5.2. Coordinates existing land user relocation to industrial zonings making way for residential/mixed use development. Recycles and re-uses existing materials in new development. Achieves highest standards in green development. Act as a liaison with local landowners in DGD
1.6. Nick Baguley
1.6.1. Technology, Big Data and Internet of Things.
1.6.2. Works with GOED, EDC-Utah and C-space technology companies to recruit tenants. Creates smart cities by integrating technology into real estate development.
1.7. Peter Corroon
1.7.1. Manager. Government and Non-profit Outreach.
1.7.2. Point person for RDA and all private/public ventures. Ensures affordable housing needs are addressed. Seeks grants and government funding where appropriate. Provides in-house legal review and oversight.
1.8. Thor Roundy
1.8.1. Chief Legal Counsel
1.8.2. Reviews transactional contracts and organizational documents. Negotiates and oversees conflict resolution. Provides title search and real estate expertise. Provides leadership outreach to incubator tech community. Works with RDA on all legal issues
1.9. Troy Thompson
1.9.1. Development and Construction Management
1.9.2. Runs the development business. Works with architects, engineers, designers and contractors to ensure design guidelines are achieved and executed. Oversees cost budgeting and development feasibility. Works with RDA on all construction issues
2. Joint Venture Partners
2.1. Okland
2.1.1. task
3. Currently OFF the chart Prospective Tenants
3.1. BigDataUtah
3.1.1. SLC Tech Startups
3.2. SLCircle
3.2.1. stub
3.3. 6 County Enterprise Zone
3.3.1. put counties here
3.4. Studio Elevn
3.5. AncestryDNA
3.6. Google/Google Fiber
3.7. FinPro
3.7.1. Education
3.7.2. IOT
3.8. Pluralsight
3.9. MIU Companies
3.10. Supporting Organizations
3.10.1. SLCircle
3.10.1.1. GOOGLE FIBER SALT LAKE CITY SCHOOL DISTRICT ACCELERANT BSP SLCIRCLE UTAH GEEK EVENTS CROWD ENGINE VISIT SALT LAKE PREVEL
3.10.2. BigDataUtah
3.10.3. SLC Tech Startups
4. Design Team
4.1. Logan Simpson
4.1.1. Task
4.2. Ankrom Moisan
4.2.1. Task