Google Applications
par Felicia Ulsh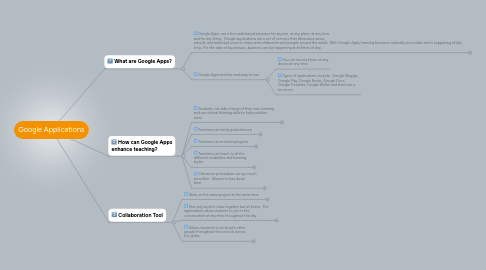 1. What are Google Apps?
1.1. Google Apps are a free web based resource for anyone, at any place, at any time and for any thing. Google applications are a set of services that allow businesses, schools and individual users to share and collaborate with people around the world. With Google Apps, learning becomes naturally accessible and is happening all day long. For the sake of businesses, business can be happening at all times of day.
1.1.1. Establish Project Administration Procedures
1.1.2. Establish Quality Control Procedures
1.1.3. Establish Progress Control Procedures
1.1.4. Establish Change Control Procedures
1.1.5. Establish Issue Resolution Procedure
1.1.6. Review Project Control Procedures
1.2. Google Apps are free and easy to use.
1.2.1. You can access them on any device at any time.
1.2.2. Types of applications include: Google Blogger, Google Play, Google Books, Google Docs, Google Translate, Google Wallet and there are a ton more.
2. How can Google Apps enhance teaching?
2.1. Students can take charge of their own learning and use critical thinking skills to help problem solve.
2.1.1. Determine Frequency of Meetings
2.1.2. Schedule Meetings
2.1.3. Brief Project Board
2.1.4. Prepare Meetings
2.1.5. Conduct Meetings
2.1.6. Follow-up Meeting
2.2. Teachers can easily guide lessons
2.2.1. Schedule Quality Review Meeting
2.2.2. Prepare for Quality Review Meeting
2.2.3. Conduct Quality Review Meeting
2.2.4. Follow-up Quality Review Meeting
2.3. Teachers can monitor progress
2.3.1. Update Project Schedule
2.3.2. Update Budget / Costs
2.3.3. Conduct Team Status Review
2.3.4. Create Status Report
2.4. Teachers can teach to all the different modalities and learning styles
2.4.1. Request Changes
2.4.2. Identify Alternative Solutions
2.4.3. Conduct Steering Committee Meeting
2.4.4. Document Change Responses
2.4.5. Implement Change(s)
2.5. Classroom procedures can go much smoother. Allows for less down time.
2.5.1. Identify Project Issues
2.5.2. Assess Impact of Issues
2.5.3. Assign Resources
2.5.4. Resolve Issue
3. Collaboration Tool
3.1. Work on the same project at the same time.
3.1.1. Prepare Product Evaluation
3.1.2. Conduct Product Evaluation
3.1.3. Initiate Maintenance Process
3.2. Not only work in class together but at home. The applications allow students to join in the conversation at any time throughout the day.
3.2.1. Prepare for Project Closure Meeting
3.2.2. Conduct Project Closure Meeting
3.2.3. Follow Up Project Closure Meeting
3.3. Allows students to work with other people throughout the schools across the globe.
3.3.1. Prepare Project Review
3.3.2. Conduct Project Review
3.3.3. Implement Process Improvement