From Kicks to Kinematics Penn (Engineering' Scholar - Athletes).
par Loreana Figueroa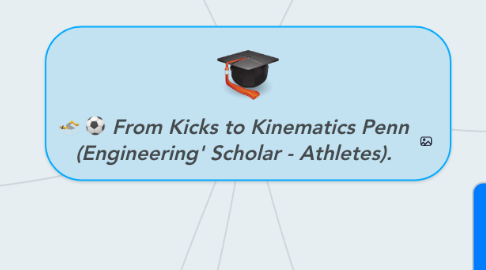 1. It offered by the University of Pennsylvania?
2. Determination and Drive
3. Erica Higa: At Home on the Field
4. A force on the Pitch
5. Eric Schultz: Power Sprint To Success
6. Not for the Faint of Heat
7. Following Her Father's Footsteps
8. -Curriculum -Academic excellence -scholarships -Sports -Among other things.
9. He is a student of Chemistry and Biomolecular Engineering to study part time devoted to sports such as swimming where shows: Speed, Safety, Elegance and Strength. This young man can perfectly handle both without neglecting either and always getting many hits.
10. Swimming can not be for the weak people of heart as much energy is needed. The boy says, being a student athlete is not for weak, is good estsr well both physically and mentally for consentrarse more studies
11. Given the determination, drive and competence in engineering, it is easy to imagine the future successes that will have Eric tells us he wants to prove his talent in music and then finished his career to try another sport like tennis but never let your passion by
12. Higas Erica is a student and athlete first year of Penn, his passion is football stands out as the best player and even though he is away from his family is quiet. His family has a Nonprofit Organization, which is run by volunteers for children with special needs seeking interaction and unity with the animals
13. Inspired by her father and brother playing Football, Erica was an inspired player on the field proving to be an agile girl with the ball, so pointed their coach. Like his prowess in sport it is also great in the academic courses making calculations, Physics and Japanese
14. Following in the footsteps of his father also studied Engineering and Applied Sciences, undeterred by how tough he is the race; Erica aspires to be Lincenciada in Meccanica Engineering and Applied Mechanics, leaving behind the studies and the sport has been a student dedicated to what you really want in life.