Recidivist Drink Driving: Identifying Stakeholder Interests & Different Perspectives on the Issue
par Madelin Orr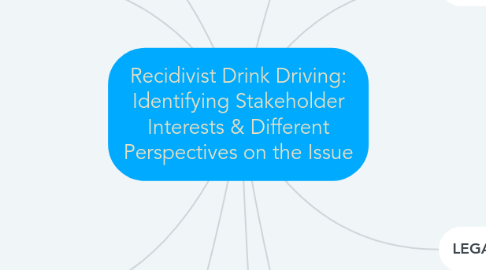 1. People who drink alcoholic vs. people who don't drink alcoholic
2. PARLIAMENT
2.1. Political realities
2.1.1. National policy to address Recidivist drink driving
2.1.1.1. Increased drink-driving penalities
2.1.1.2. Sober Driver Program
2.1.2. Need for reform
3. PUBLIC
3.1. Surrounding society
3.1.1. General community awareness on the dangers of drink driving
3.1.1.1. Change community attitude towards drink driving
3.1.1.1.1. Educating offenders about the risk to public safety
3.1.1.1.2. Drink-driving is not just a traffic offence, it is a risk to public safety
4. THE COURTS
4.1. Limitations of conventional court practices for repeat drink driving offenders
5. HEALTH SECTOR
5.1. Major cause for health and social harms in road traffic accidents
5.1.1. Educate public on responsible drinking
5.1.1.1. Recidivism is a medical issue similar to addiction
5.1.2. Drug-specific priority
6. LAW ENFORCEMENT
6.1. Recognising the role of alcohol in road traffic accidents, i.e. the National Drug Strategy 2011-2015.
6.2. Recidivist drink drivers are a risk to public safety
6.2.1. Drink driving is a criminal offence
6.2.1.1. Law enforcement initiatives
6.2.1.1.1. Random breath-testing
6.2.1.1.2. Lowering the legally permitted BAC
6.2.1.1.3. Install alcohol ignition interlock devices
6.2.1.1.4. Drug-specific priority
6.2.1.1.5. Use automatic number plate recognition technology to detect unlicensed drivers
7. LEGAL PRACTITIONERS
7.1. Reducing the risk of recidivist drink drivers and its effect on public safety
7.1.1. Justice being done
7.1.1.1. Getting justice for victims of crime and the families of injured or deceased victims of crime
7.1.1.2. Need to reduce court costs
7.1.1.3. Court decisions in favour of rehabilitiation programs and appropriating offender attitudes and the mind-set of repeat offenders on the issue of drink driving.
7.1.1.3.1. Drink driving is not a traffic issue, it is a risk to public safety and has serious consequences
7.1.1.4. Protect society
7.1.1.5. Courts must operate in a timely manner to prevent recidivist drink driving of offenders awaiting court hearing
7.1.1.5.1. Recidivist drink drivers may need to be referred to specialised courts or ADR to reduce court backlog
8. ACADEMICS
8.1. Recognise the issue of recidivist drink driving and investigate different perspectives
8.1.1. Form their own opinion
8.1.1.1. Produce evidence of relevance to their opinion on the issue
9. POPULAR OPINION
9.1. Drink drivers should be punished
9.1.1. Harsher punishments
9.2. Recidivist drink drivers and other offenders should have access to rehabilitation
9.3. Rights based approach