Billy the Kid, Michael Morpurgo
par Daniela Paredes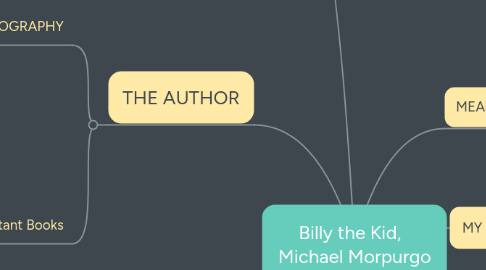 1. THE BOOK AS AN OBJECT
1.1. Billy --> cover page,football uniform back ground --> an ambulance --> World War 2
1.2. The yellow with the withe fog --> smoke --> bombs
1.3. Published : 2000
2. THE AUTHOR
2.1. SHORT BIOGRAPHY
2.1.1. Michael Morpurgo was born in October 1943
2.1.2. Author --> many books for children, he was awarded an OBE in 2006 for services to literature.
2.1.3. Known for his work in children's literature
2.1.4. He wrote children's novels
2.2. Important Books
2.2.1. "WAR HORSE"
2.2.2. "FARM BOY"
2.2.3. "PRIVATE PEACEFUL"
3. MY WORK RESSOURCES
3.1. BILLY THE KID, SCHOOL LIBRARY
4. MY PERSONAL OPINION
4.1. I found very interesting how the author related her infance
4.2. I didn't like the final moments when Billy has to join the army and he can't continue playing at the Chelsea Futboll Club.
4.3. I recommented to write more and to remove some photos
5. MEANING
5.1. AUTHOR'S STYLE
5.1.1. FIRST PERSON POINT OF VIEW: "I read the letters over and over again, and wrote home whenever I could"
5.1.2. Compasionate Tone
6. THE CONTENTS
6.1. Novel
6.2. Plot
6.2.1. Billy → 80-year-old Chelsea Pensioner. Boy → loved football→chosen to play for Chelsea Football Club. Nickname - "Billy the Kid". Life interrupted by the start of the Second World War – Billy joined the army. Returned home, injured, he found that his home had been bombed. He became a beggar. Encouraged their son Sam to play football. Sam grew up to play for Chelsea also.
6.2.2. Climax: Billy joined the army can't continue playing football.
6.3. MAIN CHARACTERS: Billy: "little bandy legs" ; "scrwany kid out"; " I was faster than all the kids twice my age"; " I'd always gone in the Shed End with dad, my favorite spot"; " "Billy the kid they call me" Ossie: " came to be my coach."
6.4. SECONDARY CHARACTERS: Mum: " ... take in washing and be working all day every day..." Emmy; Robbie
6.5. DURING THE WORLD WAR 2