Metodologías para crear Programas a través de Computadora.
por pame bill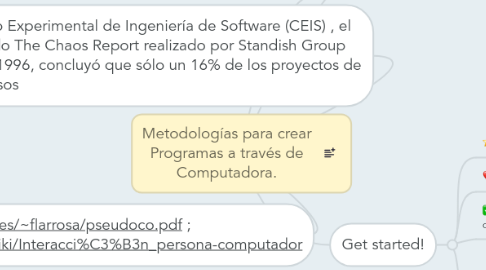 1. En cuanto al hardware, su producción se realiza sistemáticamente y la base de conocimiento para el desarrollo de dicha actividad está claramente definida.
2. http://mimosa.pntic.mec.es/~flarrosa/pseudoco.pdf ; http://es.wikipedia.org/wiki/Interacci%C3%B3n_persona-computador
3. Un sistema informático está compuesto por hardware y software.
3.1. Get started now!
3.2. La fiabilidad del hardware es, en principio, equiparable a la de cualquier otra máquina construida por el hombre.
4. Get started!
4.1. Use toolbar to add ideas
4.2. Key shortcuts
4.2.1. INS to insert (Windows)
4.2.2. TAB to insert (Mac OS)
4.2.3. ENTER to add siblings
4.2.4. DEL to delete
4.2.5. Press F1 to see all key shortcuts
4.3. Drag & Drop and double-click canvas
4.4. Find out more?
4.4.1. Online Help
4.4.2. Use Cases & Templates
4.4.2.1. Personal Todo List
4.4.2.2. Vacation Planning
4.4.2.3. Meeting Minutes
4.4.2.4. Project Plan
4.4.2.5. more...
4.4.3. Tools and Gadgets
4.4.3.1. Offline Mode
4.4.3.2. Geistesblitz Tools
4.4.3.3. Email & SMS Gateways
4.4.3.4. Offline Mode
5. Según el Centro Experimental de Ingeniería de Software (CEIS) , el estudio de mercado The Chaos Report realizado por Standish Group Internactional en 1996, concluyó que sólo un 16% de los proyectos de software son exitosos
5.1. Otro 53% sobrepasa costos y plazos y cumple parcialmente los requerimientos. El resto ni siquiera llega al término. Algunas deficiencias comunes en el desarrollo de software.