Neurodevelopment
by
Ian Cheok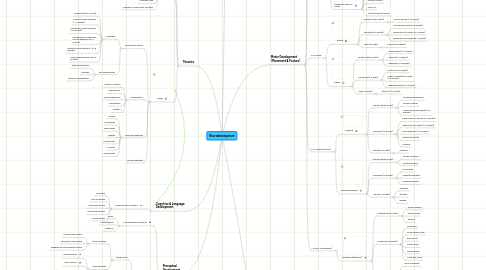 5.0
stars -
1
reviews range from
0
to
5
Neurodevelopment
Nervous system maturation
Environment
Dependent on active involvement of the infant with the environment
Adaptation
Higher level responses result from integration of lower level function
Spiralling Continuum
Four important principles: Adaptation process with new experiences is dependent on past experiences. When new and past experiences are integrated, past behaviours are modified and result in higher level behaviour. Integration of higher level behaviours influence and increase maturity of lower level behaviours. Spatiotemporal stress allows lower level behaviours to emerge during adaptation.    
Principles
Birth-6 months
6-9 months
9-12 months (Infancy)
1-3 years (Toddlerhood)
Somatosensory Perception
  Myelinate before the visual system. Input from these systems assist in the formation of spatial maps/schema for providing: - Information about space and form perception, spatial relationships of body in space. - Basis for developing body awareness (e.g. Vestibular system also has large input in this area).    
Visual Perception
What's involved (model)
Qualities
Perceptual Motor & Symbolic Development
Communication Disorders
Erikson
Havighurst
Piaget