SENTENCE STRUCTURE
by lesly vasquez salinas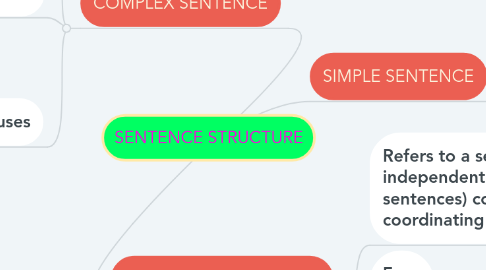 1. SIMPLE SENTENCE
1.1. Has the most basic elements that make it a sentence: a subject, a verb, and a complement.
1.1.1. Joe waited for the train.
1.1.2. They cook delicious food.
1.1.3. I am reading a novel.
2. COMPOUND SENTENCE
2.1. Refers to a sentence made up of two independent clauses (or complete sentences) connected to one another with coordinating conjunctions "FANBOYS".
2.2. For And Nor But Or Yet So
2.2.1. I ate candies but she doesn´t.
2.2.2. Karen went to the movies yesterday but her boyfriend did not.
3. COMPLEX SENTENCE
3.1. Is made up of an independent clause and one or more dependent clauses connected to it.
3.2. Independent clause
3.2.1. *I did not see them at the station because Mary and Samantha arrived at the bus station before noon. *Joe realized that the train was late while he waited at the train station.
3.3. Dependent clauses
3.3.1. *because Mary and Samantha arrived at the bus station before noon *while he waited at the train station *after they left on the bus