British North America
by
itz Krayzie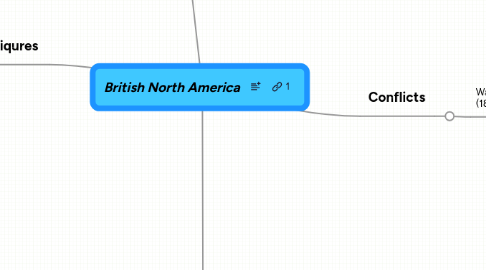 0.0
stars -
0
reviews range from
0
to
5
This is just a demo map that you can delete right away, if you feel like it...
Tension between different groups
First Nations demanded that they regain their land and that they get control of Ohio Valley
The First Nations were given back more power and some land were promised to them
Quebecois demanded that they get back more rights and regain more power
The French were given back more power and many rights were given back to the Quebecois, such as the return of seigneural system
13 colonies demand that they get Ohio Valley and more area to expand
The British did not do much but instead increased taxes and created more laws
Change
Canada United
On 1841, Canada West and Canada East was united into the Province of Canada, which was under British rule/control
In 1867, the British North America Act split Canada into it's 1841 parts, renaming Canada East Quebec and Canada West Ontario, In 1870, Manitoba joined Canada, In 1871, British Columbia joined Canada, In 1873 Prince Edward Island joined Canada, In 1949, Newfoundland joined Canada
Government
Responsible government was granted after many riots and rebellions led by Papineau, William Lyon Mackenzie, and various others
Key fiqures
Lord Durham
Lord Durham, John Lambton, was known as a very successful leader as he united the Canada's as one and gave them responsible government. Sent from England to investigate recent rebellions by Mackenzie and Papineau, he arrived and was very supportive of the responsible government. Although he was supportive of it, he was biased towards the British and gave the French very little. Some reasons include that he wanted to assimilate the French into the British, and was always the opposite/opposing force of the Union Act
Issac Brock
Tecumseh
A Shawnee leader and a First Nation Coalition leader, Tecumseh was a very successful leader. Known for his actions in protecting First Nation lands by allying with the British, Tecumseh fought for many First Nation rights such as land and rights.
Rebellion Leaders/Anti-Rebellion Leaders
Louis-Joseph Papineau, Papineau, 1786-1871, was a politician, lawyer, and landlord of a seigeurnie. He was the leader of a Patriote movement in Lower Canada that demanded responsible government in Canada. Although wanting it as a peaceful strike, it soon got violent as rebellions began to break out. He rallied an violent reform before going into exile into the US
William Lyon Mackenzie, Mackenzie, 1795-1861, was a journalist, politician, and rebellion leader. Owning a small printing press, Mackenzie often published insults against leaders in his newspaper. One particular thing that was important in forming Canada was that he began to rally men to fight for responsible government. Rallying his troops to Montgomery's Tavern, he hesitantly waited for 3 more days, thus delaying his attack on York, which would've led to an earlier responsible government. As he waited for more men, Bond Head, an anti-rebellion leader, led many troops to Montgomery's Tavern, killing many rebels and burning it down. Mackenzie then fled to the US in exile, and returned later. His 2 right hand rebel leaders were unsuccessful, and were caught and hanged for treason
Bond Head, Head, 1793-1875, was Lieut. Governor of Canada during the rebellions. Angered by the rebellions by Mackenzie, he led troops to Montgomery's Tavern, burning it down and killing many rebels.
Conflicts
War of 1812 (1812-1815)
Tension between British and American Forces, Trade interferences, The British created trade laws that ignored international laws, Restricted French and Americans from trading with each other, at which Britain was at war with France, International law decreed that neutral countries (USA) were allowed to trade with a warring nation without interferences with other hostile nations, The British restricted trade between the United States and France, Britain and France were at war, and US was not, but was drawn into the conflict, Allowed trade only with Britain and other nations except France, British imports include 80% of all US cotton and 50% other imports, American Jingoism, Americans continually harassed the British, Some due to trade interferences, some due to the fact that US was now an independent state, The British took it as an offence and used it as part of an excuse for war, British Impressment, The British impressed (Forced) any British sailor on board an US ship to work for them, Reasons include that the British had around 600 ships at that time, which required more than 140,000 sailors, Majority of British sailors were volunteers during the peacetime, During war periods, the British were often undermanned, The US accepted the immigration of others into US citizenship, The British were highly against the fact of US immigration, British did not think that the American citizenship was right, British promised Aboriginals land, The British, who were long time allies of many First Nations, proposed a neutral state for Natives, The land was located around Ohio, Michigan, and Indiana, The land was near many hostile American settlements that wanted the land, The Americans, who were already involved in the War of 1812, invaded the lands on the fall of 1814, thus the British losing the promised lands
2 different belligerents, American Coalition, Americans, James Madison, Henry Dearbond, Jacob Brown, Winfield Scott, Andrew Jackson, Henry Harrison, William Hull, First Nation Allies, Creek/Muscogee, Choctaw, Cherokee, Strength, US Army, Start of war: 7,000, End of war: 35,800, Rangers : 3,050, Navy, Frigates: 6, Other ships: 11, Natives, 125+, British Coalition, British, Brock Issac, Roger Hale Sheaffe, Gordon Drummond, Robert Ross, Edward Pakenham, Lord Liverpool, First Nations, Shawnee, Tecumseh, Creek Red Sticks, Ojibway, Chickamauga, Fox, Iroquois, Ottawa, Mingo, Miami, Kickapoo, Delaware, Mascouten, Potawatomi, Sauk, Wyandot, French Canadiens, Charles de Salaberry, George Prévost, Strength, British Army, Start of war: 5,200, End of war: 48,160, Royal Navy/Marines, Ships of the line (Battlecrusiers) : 11, Other ships: 84, Natives, 10,000
Conflicts and blood-shedding battles, Casualties of war, British, 5,000 dead, 3,500 wounded, American, 17,500 dead, 4,500 wounded, Battles, Battle of Queenston Heights, British victory against American/Allies, Strength, British: 1,300, American: 6,000, Aftermath, British: 20 killed 80 wounded, American: 100 killed 170 wounded, Belligerents, British Leaders, Issac Brock, Roger Sheaffe, American Leaders, Stephen Van Rensselaer, This battle was a major event in the War of 1812, involving the death of a famed British commander and the result of a poorly planned American invasion., Although the Americans outnumbered the British by vast amounts, many of their troops were unable to arrive due to British bombardment, Thanks to the successful British bombardment on the bulk of the American invasion force, they were able to send supplies and reinforcements to Queenston Heights, Battle of Lake Erie, American/Allies victory against British/Allies, Strength, British: 2 ships 2 brigs 1 schooner 1 sloop, American: 5 schooners 3 brigs 1 sloop, Aftermath, British: 50 killed 100 wounded Entire fleet captured, American: 30 killed 100 wounded 1 brig damaged, Belligerents, American Leaders, Oliver Hazard Perry, Jesse Elliot, British Leaders, Robert Heriot Barclay, The British had already controlled Lake Erie in the beginning of the war, with a small force of warships under General Barclay. The force was mainly military transport, and the nearest navy ship was damaged and unready. Although the Americans lacked counter vessels, the received later on many attack ships which led them to victory, The British transports were in no condition to fight, as well as the Navy ship deployed, whereas the Americans had battle ready ships, Although there were guns taken from a nearby fort from General Procter, the British fleet still lost as they were undermanned and unprepared, Battle of Thames, American/Allies victory against British/Allies, Strength, British: 1,300, American: 3,700, Aftermath, British: 20 killed 40 injured, American: 30 killed 60 injured, Tecumseh, leader of the Shawnees and the Coalition with the British died, causing the Coalition to break apart, The plan of the British was to stay and protect the land of which would be given to First Nation allies of the British, but failed due to lack of supplies and weapons, The guns of the fort were removed to be mounted of General Barclay's ships to head to another area, Procter and Tecumseh retreated up to Moraviantown, as they compromised to stand ground there to protect the First Nation land, British soldiers were low on food, thus having to eat only half rations, After the battle, the Americans set fire to the peaceful town of Moraviantown, which had no involvement in the war, Belligerents, American Leaders, William Henry Harrison, 27th US Infantry, British Leaders, Tecumseh, Shawnee First Nations, Henry Procter, 41st Infantry, Battle of Chrysler's Farm, British/Allies victory against Americans/Allies, British/Allies were outnumbered, but still won due to tactics, Strength, British: 900, American: 8,000, Aftermath, British: 50 killed 150 injured, American: 100 killed 250 injured, The plan of the Americans was to attack and then advance onto Montreal with others, but was failed due to lack of communication, tactics, men, and planning, American forces were inexperienced and lacked necessary equipment and weapons, Americans lacked supplies such as food to feed the men, Belligerents, British Leaders, William Mulcaster, Joseph Wanton Morrison, 89th Regiment, American Leaders, James Wilkinson, 6th, 15th and 22nd U.S. Infantry, John Parker Boyd, Battle of Lundy's Lane, Belligerents, British Leaders, Gordon Drummond, Phineas Riall, American Leaders, Jacob Brown, Winfield Scott, Eleazer Ripley, Strength, British: 3,500, American: 2,500, Aftermath, British: 90 dead 560 wounded, American: 180 dead 570 wounded, British victory against American/Allies, The American plan was to continue an attack after successfully obtaining a fort commanded by Phineas Riall. Spearheading the attacks, Jacob Brown surrounded his enemies near Niagara, but lacked troops and artillery to attack, The Americans were intended to win, but the commander of an American fleet that was bound to reinforce fell ill, which resulted in no reinforcements for the Americans, Light infantry and militia under Riall defend the land on Lundy's Lane, leading to the most blood-shedding battle ever on Canadian soil, Battle of Lake Champlain, American victory against British, Strength, British: 10,000 16 ship fleet, American: 3,400 14 ship fleet, Aftermath, British: 170 killed 220 wounded, American: 100 killed 120 wounded, Belligerents, British Leaders, George Prevost, George Downie, American Leaders, Thomas MacDonough, Alexander Macomb, Generals Prevost and Downie met on the lakeside town of Plattsburgh to attack the nearby American fort. Due to the defenses the British army was repelled and General Downie was killed., During the aftermath, Prevost's excuse was that even if it was captured, it wouldn't be a easy place to supply and defend, Battle of York, American victory against British, Strength, British: 700, American: 1,700 15 vessels, Aftermath, British: 80 dead 40 wounded, American: 60 dead 270 wounded, Belligerents, British Leaders, Roger Hale Sheaffe, American Leaders, Zebulon Pike, Issac Chauncey, Henry Dearborn, Not only was York the capital of Upper Canada, but it was also the front line of British/American forces, British supply line, and controlled many forces.Located nearby, it controlled many naval forces, which some enabled General Brock to victory in many battles. Unfortunately, due to failed intel, the British were attacked by a fleet of American forces, which caused them to lose the Lakes, Siege of Detriot, British Victory against American, Strength, British: 1,330 2 ships 10 guns, Aftermath, British: 2 wounded, American: 7 killed 2,500 captured, This battle, which was a deception and bluff tactic, was a very successful tactic used in the war. General Brock and Tecumseh both used strategies that mimic the sound of thousands of soldiers. Both generals had their men march 24/7 and had each man build their own fire, thus making it feel/sound like an army of thousands were outside. The American fort general, William Hull, decided to surrender instead of losing many of his men to "thousands" of invaders