THE PRODUCTION OF SPEECH SOUNDS
by Karol Medina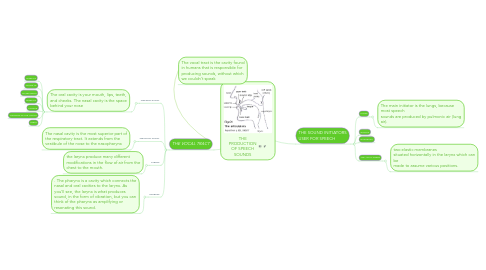 1. THE VOCAL TRACT
1.1. THE ORAL CAVITY
1.1.1. The oral cavity is your mouth, lips, teeth, and cheeks. The nasal cavity is the space behind your nose
1.1.1.1. UPPER LIP
1.1.1.2. LOWER LIP
1.1.1.3. LOWER TEETH
1.1.1.4. UPPER LIP
1.1.1.5. TONGUE
1.1.1.6. THE ROOF OF THE MOUTH
1.1.1.7. TEETH
1.2. THE NASAL CAVITY
1.2.1. The nasal cavity is the most superior part of the respiratory tract. It extends from the vestibule of the nose to the nasopharynx
1.3. LARYNX
1.3.1. the larynx produce many different modifications in the flow of air from the chest to the mouth.
1.4. PHARYNX
1.4.1. . The pharynx is a cavity which connects the nasal and oral cavities to the larynx. As you'll see, the larynx is what produces sound, in the form of vibration, but you can think of the pharynx as amplifying or resonating this sound.
2. THE SOUND INITIATORS USER FOR SPEECH
2.1. LUNGS
2.1.1. The main initiator is the lungs, because most speech sounds are produced by pulmonic air (lung air).
2.2. GLOTTIS
2.3. DIAPHRAGM
2.4. THE VOCAL CORDS
2.4.1. two elastic membranes situated horizontally in the larynx which can be made to assume various positions.
3. The vocal tract is the cavity found in humans that is responsible for producing sounds, without which we couldn't speak