Computers
by
Salma Assem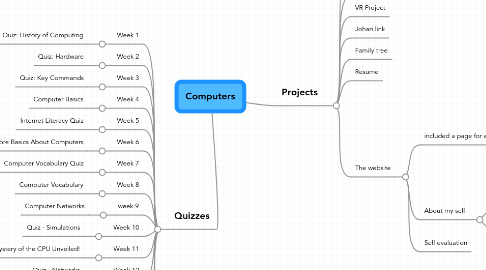 0.0
stars -
0
reviews range from
0
to
5
Computers
Projects
Movie Project
Sketch up
Windows Movie Maker
dream home designed in Sketchup.
VR Project
Johari link
Family tree
Resume
The website
included a page for each subject, Math, International Relations, Biology, English, Computer
About my self, about my self, Resume
Self evaluation
Quizzes
Week 1
Quiz: History of Computing
Week 2
Quiz: Hardware
Week 3
Quiz: Key Commands
Week 4
Computer Basics
Week 5
Internet Literacy Quiz
Week 6
More Basics About Computers
Week 7
Computer Vocabulary Quiz
Week 8
Computer Vocabulary
week 9
Computer Networks
Week 10
Quiz - Simulations
Week 11
Computer Basics: The Mystery of the CPU Unveiled!
Week 12
Quiz - Networks
Week 13
Computer Vocab Revisited
Week 14
Computer Vocabulary: Are you my mother(board)?
Week 15
More computer vocabulary
Week 16
Computer Basics Revisited Week 16
Week 17
Computer Basics: Secrets of the Computer!
Week 18
Computer vocabulary